Great Lakes Boating and Fishing Ecosystem Focus of Brandon Road Interbasin Project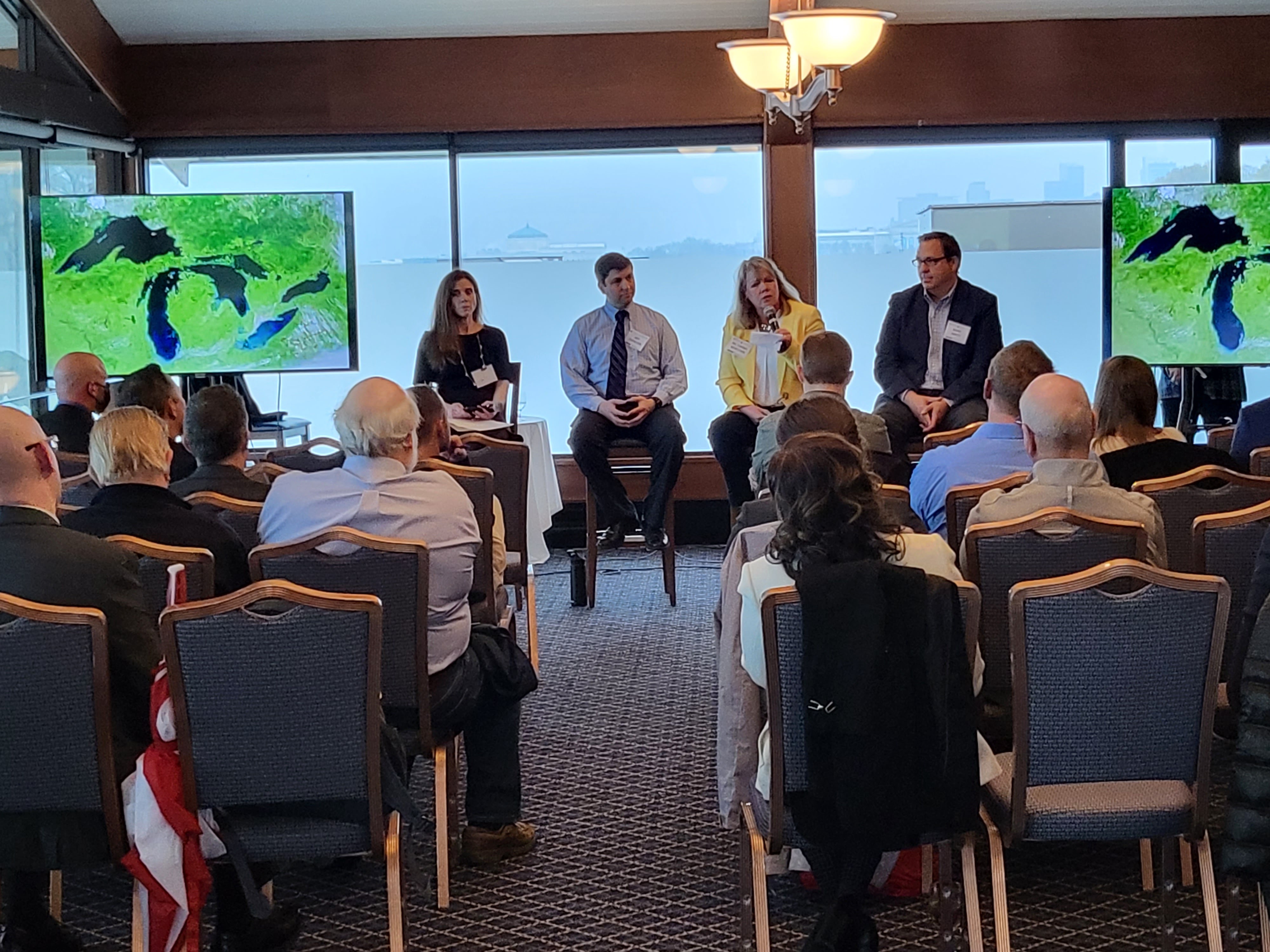 NMMA members, staff and recreational boating industry stakeholders gathered last week at the Chicago Yacht Club for the "Protecting the Great Lakes: Understanding the Brandon Road Lock and Dam Project" event; an important topic affecting the recreational boating and fishing ecosystem in the Great Lakes.

Sponsored by the Alliance of the Great Lakes and Great Lakes Credit Union and coordinated by NMMA's Jill Sims and Joe Campise. The event included a panel discussion lead by Molly Flanagan, Chief Operating Officer & Vice President for Programs, Alliance for the Great Lakes, who was joined on stage by panelists:
Jeff Zuercher, Project Manager, U.S. Army Corps of Engineers
Tammy Newcomb, Michigan Department of Natural Resources
Marc Smith, Policy Director, National Wildlife Federation

The Brandon Road Interbasin Project is a complex ecosystem protection effort designed to prevent upstream movement of invasive carp and other aquatic nuisance species into the Great Lakes from the Illinois Waterway. Brandon Road Lock and Dam near Joliet, Ill., has been identified as the critical pinch point where layered technologies could be used to prevent movement of invasive carp populations into the Great Lakes.

As filter feeders, invasive carp consume the base of the aquatic food chain, starving out and outcompeting native fish species. Additionally, silver carp become a safety hazard to boaters and anglers on waters they inhabit, leaping five feet in the air and weighing up to 60 pounds. Recent studies have predicted they could thrive in Lake Michigan and Lake Erie if they become established, where they could spread to connected inland rivers and lakes, jeopardizing the Great Lakes' $7 billion annual sportfishing economy and the freshwater ecosystems of the Great Lakes region. To learn more, click here.

As the Brandon Road project continues to move through various design and construction phases, NMMA will continue to advocate for full federal funding of the project. This spring, Congress has begun working through the Water Resources Development Act (WRDA) 2022 reauthorization, and NMMA included full federal funding for Brandon Road as a top priority ask of the recreational boating industry.

For more information, please contact NMMA's senior manager of Great Lakes policy and engagement, Jill Sims at jsims@nmma.org.