Yamaha's Ben Speciale Honored with TRCP's Conservation Achievement Award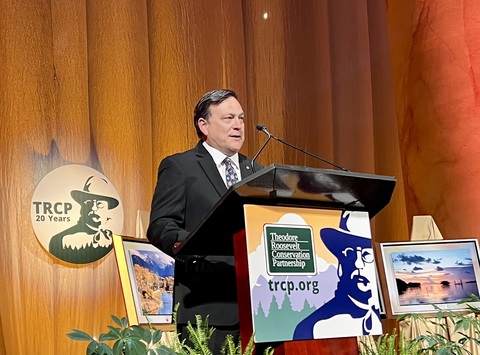 The Theodore Roosevelt Conservation Partnership® (TRCP®) honored NMMA board member and former chairperson, Yamaha U.S. Marine Business Unit President Ben Speciale, with the 2022 Conservation Achievement Award during the 14th Annual Capital Conservation Awards dinner last week. Recognized alongside Senator Steve Daines (R-MT) and Congresswoman Betty McCollum (D-MN), 2022 recipients of the James D. Range Conservation Award, Speciale received his award for leadership in conservation and environmental stewardship.
"We all have access to the natural treasures of this country through our public lands and waterways, and I'm grateful to work for a company that makes products that foster a love for the outdoors. When we can find a common ground in our desire to conserve resources and work together through bi-partisan efforts, we can ensure those resources are here for future generations to enjoy," said Speciale. "Conservation and sustainability are at the center of the Yamaha Marine organization. I'm humbled and share this honor with my co-workers and mentor, Yamaha Marine Past President Phil Dyskow."
Founded in 2002, the TRCP® is the largest coalition of conservation organizations in the country, uniting and amplifying the voices of sportsmen and women by convening hunting and fishing groups, conservation organizations, and outdoor businesses to a common purpose.