Evolving Discover Boating, Part 2: Q&A with NMMA's Ellen Bradley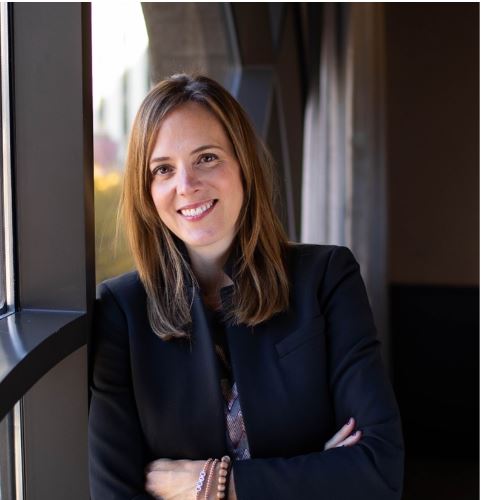 Following yesterday's article in the two-part series on the evolution of Discover Boating, NMMA's senior vice president of marketing and communications, Ellen Bradley (EB), provides further detail on where the Discover Boating brand is headed:

Can you shed more light on the thinking behind boat shows under the Discover Boating brand?
EB: The amplification of the recreational boating industry's collective voice couldn't come at a more important time. When signs of pre-COVID life re-emerge, the industry must be ready with a strong, unified, and relevant voice to recruit and retain market share as competition for consumers' discretionary time and dollars returns with a vengeance. Connecting boat shows, with their immense reach into major markets around the country, under Discover Boating, gives us a significant strategic advantage with on-the-ground, in-person experiential marketing and sales events.

At the same time, as consumer behavior has shifted toward online at a pace that's been exacerbated by COVID, we must ensure we can meet their expectations and demands. The consumer today expects to be in the driver seat. As a result, we need to reconsider and reimagine every touchpoint of the boat buying and ownership experience, creating a more meaningful and strategic full-funnel, omnichannel Discover Boating marketing strategy that better connects consumers with manufacturers and dealers. This is another reason that partnering with the Marine Retailers Association of the Americas (MRAA) on Discover Boating is so important. When streamlined and integrated, the Discover Boating brand with boat shows as part of its portfolio, will unite the industry to deliver a broader, more compelling message that appeals to both boaters-to-be and current boaters. This all comes at a critical moment in time as we position ourselves, like never before, to protect and grow market share.

Can you give us a glimpse into what boat shows under the Discover Boating brand will look like and when?
EB: Think evolution, not a revolution. Discover Boating has built strong brand equity, resulting in tremendous organic web traffic, social media engagement and PR value as evidenced by the results we saw last year. At the same time, NMMA's 14 boat shows have strong equity of their own and each year attract as many as 500,000 attendees. When a boat show enters a market, during a two-week period surrounding that show, the show is everywhere. They are an ideal platform to tell our industry story to media, influencers, politicians, business partners, and of course, the consumer. What's more, boat show attendees tend to be repeat boat buyers and active boaters. And, Discover Boating, while geared toward attracting new boaters, resonates with the boater too. The bottom line is connecting boat shows' marketing power to Discover Boating must be done strategically and methodically.

Protecting boat show brand equity while transitioning to Discover Boating, so we're seamlessly and impactfully engaging both the existing boater/boat owner and the future boater is an important part of our strategy. The data we glean from our research is the guiding light throughout the brand integration process.

What's more, as a result of its nearly two decade-long history of supporting boaters and boaters-to-be, Discover Boating has built significant credibility and trust with the consumer. Discover Boating remains an independent trusted source of advice for the consumer and that trust needs to be protected as we move forward. Similarly, NMMA's boat shows, which have a history that dates back more than 110 years, have become part of their community with loyal attendees who have come to expect a world-class experience. These trusted reputations are built on putting the customer first and are at the core of where we're going.

Ultimately, Discover Boating, with boat shows in the brand's portfolio, is about connecting consumers seamlessly with boating – everything from products and educational resources to lifestyle content, experiences, news, and a valuable community – all under one brand.

How is Discover Boating, with boat shows as part of the brand, addressing the changes we're seeing in consumer behavior?
EB: Every year, NMMA brings hundreds of thousands of people to boat shows to connect directly with manufacturers and dealers to find their next boat, the latest gear or boating experience. These attendees often buy onsite at the show or place orders to buy afterward. On the Discover Boating side today, we bring millions of potential boat owners to DiscoverBoating.com to educate them on how to become a boater and enjoy the lifestyle and send many of these people off as referrals and leads to manufacturers and dealers.

Connecting Discover Boating and boat shows under one brand includes ensuring the consumer can easily navigate from one experience to the other and do so conveniently. Again, it is all about putting them in the driver seat so they're able to choose their own path. This includes more seamlessly finding what they're looking for and connecting with a manufacturer, dealer, or exhibitor. To do this conveniently, we need to allow them to conduct as much of their journey online as possible. As a result, a digital platform is being developed to connect the experience between DiscoverBoating.com and NMMA's shows. As part of this, we will assist them in navigating the onsite, in-person boat show experience. If companies aren't prioritizing the online experience for customers, customers will leave you behind. We see this in our own research.

When you mention digital platform, some might think virtual boat shows, but that's not what is planned. Can you elaborate?
EB: Correct. The digital platform and the entire brand integration are not a revolutionary shift in how NMMA and Discover Boating support the industry today. Instead, it's that critical evolution that must take place if we're going to be positioned to attract and retain boaters for the long term. In our experience, a virtual boat show isn't going to deliver what the consumer truly wants. It's really all about meeting the consumer where they are so they feel welcome. We're not moving toward virtual boat shows or looking to duplicate what many manufacturers and dealers offer today on their own sites—instead, we'll complement those platforms while making it much more seamless for our customers and future customers to connect with manufacturers, dealers, and exhibitors.

That said, like nearly every digital platform, we will approach this in phases. We know we're going to learn a lot right out of the gate when we launch this under the refreshed Discover Boating brand in 2022. So, expect a phased approach and evolution, with phase one being available in conjunction with the start of the 2022 boat show season.

While building toward 2022, can you share what's in store for 2021?
EB: While we build toward the initial brand integration for 2022, we're focused on maintaining momentum in 2021 and doing all we can to engage future customers. Again, we know we will have a lot of competition as other leisure industries return so in 2021 it's about nurturing potential boaters-to-be. Knowing it takes time to nurture future boat buyers, we need to be in front of them now.

As a result, look for Discover Boating to deliver a steady drumbeat of consumer awareness and education to recruit and retain boaters this year. A big component of this is our year-two partnership with the Recreational Boating and Fishing Foundation (RBFF)'s Take Me Fishing on the Get on Board campaign this spring and summer. This campaign has a lot of power in it that we'll leverage across the entire industry to help us get on—and stay on—consumers' radar. With the importance of retaining the many new boaters we welcomed last year, the Get on Board effort is heavily focused on just that so you'll see a lot of reminding of first time boaters of the lifestyle benefits of boating, educational/how-to content and safety content this year.

There is a lot going on—how's Discover Boating been trending so far this year?
EB: We're off to a strong start, in part because of the attention we've captured among consumers while they seek social distanced-friendly relaxation, family time, and fun. That said, it's important to note while we're seeing incredible consumer interest and demand at retail, fulfilling that demand is being slowed due to supply chain disruptions across manufacturing. Unfortunately, our industry is not immune to these disruptions, so we're seeing a lag in new boat shipments. Discover Boating's funding originates at the sale of engines and boats to dealers. With the backlog we're not seeing a big jump in our funding like we would expect due to the retail demand. At the same time, with a lag in shipments, we need to be mindful of how important it is to nurture potential buyers for the long term vs. short term. This is something NMMA is keeping a close eye on over the coming months. All that said, between October and February we've seen:
More than 1 million visitors: +60% YOY
360K manufacturer referrals: +3% YOY
Attracting NextGen: age 25-34: +27% YOY; age 18-24: +105% YOY; women: +80% YOY
More than 100 news stories across top tier media

For questions about Discover Boating, please contact Ellen Bradley at ebradley@nmma.org.