Boating Gives Back: West Marine's Innovative Approach to Repurposing Goods During The Pandemic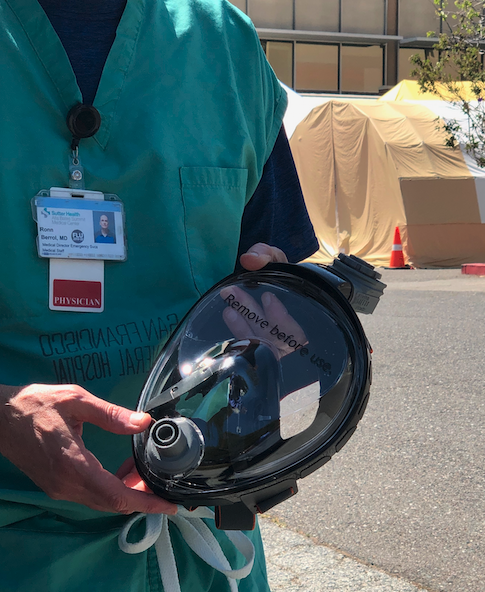 Today's member spotlight features West Marine—an example of a truly innovative and resourceful response to meeting immediate needs of the nation during this COVID-19 crisis.
A California-based boating and fishing company, West Marine has begun working alongside Cedars-Sinai Medical Center in LA to use Ocean Reef snorkel masks and transform them into respirators. Additionally, this leading retailer has engaged on the local level by making donations to meet emerging needs in hospitals.
Identifying snorkel masks as having the potential to be repurposed into respirators, West Marine teamed up with Cedar Sinai Hospital, Sutter Medical Group, and Milwaukee School of Engineering
's Rapid Prototyping Center to

deliver snorkel masks to organizations and determine what adaptations are necessary to transform the masks into respirators.

Through the Rapid Prototyping Center, the team has utilized 3D printing as a powerful manufacturing tool to solve for many of the challenges that emerge from supplying materials, particularly with commercial filter cartridges. Now, the group is working with hospitals across the country to create 3D printed adapters to solve for this need in medical facilities, providing the necessary tools to treat more patients and save more lives.
West Marine plans on distributing approximately 1,200 masks to hospitals able to utilize the adapted masks. Ocean Reef has also pledged to donate the same number of adaptors so hospitals will receive the full kit. Testing has completed at Alta Bates Summit Medical Foundation in Oakland, CA and 200 masks have been sent for use in the ICU and emergency departments. Partnerships with additional hospitals are in process and more masks will be sent once testing is complete.
"After reading reports of scuba masks having the potential to be adapted into respirators, we realized West Marine had an opportunity to play a role in meeting these needs for our communities," said Ken Seipel, CEO of West Marine. "With this incredible team of researchers, we've worked closely to develop the appropriate adaptor for the masks, and if found effective, it will be ready to distribute and use in the next few weeks."
On a local level, West Marine donated product to help create 4,000 face shields to be distributed throughout the Bay Area and store managers across the country are connecting with area hospitals and health care systems to determine specific donation needs. Including 5,000 gloves in Fort Lauderdale, a supply of bungee cord to make face masks in Richmond, Virginia, and 150 spray suits in San Diego.


Throughout these engagements, West Marine is also committed to keeping their own staff safe and healthy by taking necessary precautions at their facilities, including curbside pickup and ensuring that all members adhere to safe social distancing practices.
This is part of NMMA's new series of member stories that highlight how the boating industry is stepping up to the plate during the COVID-19 pandemic. If your company has a goodwill story to share, please submit it to NMMA's COVID-19 task force at
taskforce@nmma.org
.
If your company is looking for guidance on manufacturing and/or donating PPEs please visit our
Ways to Help page
that offers vetted sources and guidelines from FEMA and the FDA to the American Hospital Association, which helps partner companies with hospitals in need and much more.