COVID-19 State Impacts: Outdoor Access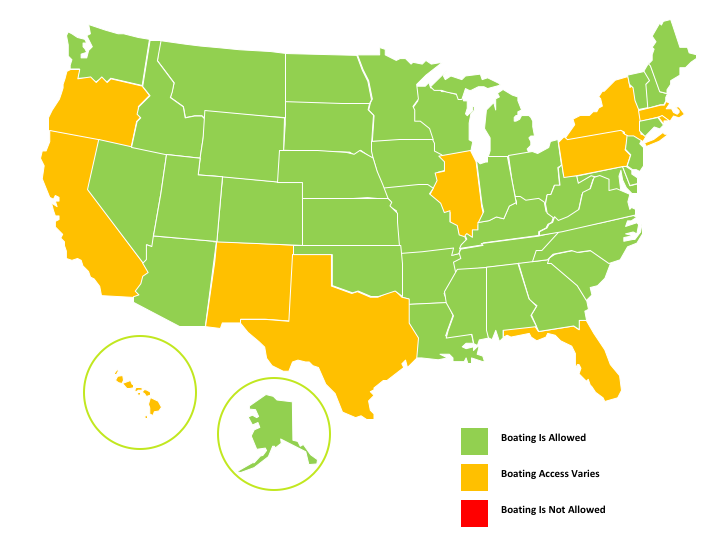 Access Impacts: The state is now under Phase II of Governor Newsom's reopening plan, allowing the operation of marinas, boat clubs, charters, and boat ramps throughout the state. Phase II Stage 2 allows gradual reopening of lower-risk workplaces with adaptations including bookstores, clothing stores, florists and sporting goods stores, with modifications. It is unclear if bait shops and other fishing-related businesses are included in Phase II.
On April 10, the Pacific Fishery Management Council (PFMC) recommended the following 2020 season dates for the state's four Salmon management areas:
Boating: No more than two people are allowed on any boat in Hawaii's water for recreational purposes, unless they are part of a single residential or family unit sharing the same address. Both people on the boat are required to maintain physical distancing of six-feet from one another, as is reasonably possible. All boats are required to stay 20-feet from one another.
Fishing: Shore Fishing Limitations. No group of more than two persons may engage in shore fishing, unless all in the group are part of a single residential or family unit sharing the same address. All persons engaging in shore fishing, who are not part of a single residential or family unit sharing the same address, shall comply with social distancing requirements.
Access Impacts: Idaho state parks and boating access points remain open for daytime use. However, the Department of Parks and Recreation states in its website that access to parks may be restricted if visitors regularly violate social distancing guidelines.
Access Impacts: Currently all DNR properties including State Parks, State Forests, Fish and Wildlife areas, Nature Preserves, and state recreation areas are open. Entrance fees have resumed. Marinas are open with limited operations. Lakes, dams and waters managed by the U.S. Army Corps are closed.
Access Impacts: Kansas State Parks, fishing lakes and wildlife areas are currently open to the public. Kansas enters a modified version of Phase 2 on May 22, this prohibits any activities likely to draw together more than 15 persons outside of the immediate family.
Some boat ramps operated by the U.S. Corps of Engineers may be closed. Please check by visiting corps websites:
Boaters must be with immediate family members or people with which they reside.

No more than 10 people can be on a boat at one time, including captain and crew.

Boats must be distanced from each other by at least 10 feet and are prohibited from rafting up, beaching, or having rendezvous events.

Boats are prohibited from docking at restaurants or bars.

Vessel and boat races remain prohibited.
Marinas can reopen to recreational boaters, but must adhere to the Maryland Departments of Commerce and Health guidelines.
Pump-out stations and boats may resume operations under the Departments of Commerce and Health guidelines.
Local jurisdictions may choose to open public boat ramps, but must ensure social distancing guidelines.
All normal boating rules and regulations are in effect and must be followed.
Fishing: Recreational fishing activities are allowed, however:
When fishing from a boat, one must be with immediate family members or people with which they reside.

No more than 10 people may be on a boat at one time, including its captain and crew.

When fishing from onshore or at a pier, social distancing guidelines must be followed.

DNR fishing piers will reopen immediately.

Fishing tournaments remain prohibited.
All normal rules and regulations regarding fishing are in effect, including creel limits, gear restrictions, and seasons.
Access Impacts: Inland boat ramps and canoe launches within state parks, forests, wildlife management areas, boating access facilities and other state owned properties remain open for use by boats being launched by vehicles registered in the Commonwealth of Massachusetts, except where the access has already been closed due to parking restrictions or other restrictions. On May 25, beaches and most outdoor activities, including recreational boating businesses and the charter/for-hire fishing industry, may reopen and resume with guidelines. Specific guidelines can be found below:
Boat Ramp Guidelines:
Recreational boating is permitted under the following guidelines:
Access Impacts: Michigan state parks, recreation areas, trails and other state-managed lands remain open, provided all visitors adhere to the requirements for proper social distancing.
In addition to the DNR Law Enforcement Division, Michigan State Police and local law enforcement agencies have full authority to enforce the provisions of this order.
Access Impacts: State Lakes and State Park Lakes reopened for fishing and boating on Monday, April 20, 2020 for day use only. Wildlife management areas remain open. Social distancing guidelines must be adhered to, group activities are limited to a maximum of 20 people.
Access Impacts: Missouri state parks remain open. Boat ramps are operating normally. The Department of Conservation reminds people that it is still critical for everyone to continue to heed all recommendations for physical distancing, avoiding overcrowding, hand-washing, and other public-health measures during outdoor activities.
Access Impacts: Montana state parks are open and most campgrounds have reopened as of May 1, but visitor centers remain closed. Bannack State Park will remain closed. Visitors are reminded to bring their own supplies when recreating on our state lands while practicing social distancing guidelines and adhering to Leave No Trace principals. Supplies should include hand sanitizer as it may not be available in all parks. All park events and programs have been cancelled until further notice.
Fishing: fishing piers are open but social distancing guidelines are to be strictly followed.
Access Impacts: On April 19, Governor Cuomo signed Executive Order 202.6, "Essential Business," reopening Marinas, boatyards, and recreational marine manufacturers, for ongoing operations and boat repair/maintenance, where such facilities adhere to strict social distancing and sanitization protocols. No chartered watercraft services or rentals are permitted. Restaurant activity at such sites are limited to take-out or delivery only.
Access Impacts: North Dakota outdoor recreational facilities, including boat ramps that are accessible to the Missouri River and wildlife management areas remain open. State operated marinas have reopened.. Fishing piers will be were put in on May 15 and fish cleaning stations will be open for use on May 21.
Fishing: Non-resident fishing license sales have temporarily been suspended. Individuals who currently possess a non-resident fishing license may fish in Ohio if they abide by ODH guidance to self-quarantine for 14 days before they do so.
National forests have closed most established recreation sites including campgrounds, trailheads and restrooms. Campgrounds, day-use sites and restrooms are also closed on BLM lands. Wildlife areas remain open for wildlife viewing, fishing and hunting but are closed from 10 pm – 4am. The salmon and steelhead fisheries are closed on the Columbia River.
State officials strongly encourages anglers and boaters to recreate close to home. Many locations to fish, hunt, crab and clam are closed, including some boat ramps, parking lots and restrooms.
If going to any location to boat or fish, be sure to check with the managing authority to make sure that place is open for recreation. There are several localities and counties that have closed some parks and boat ramps.
Utah state parks remain open, but some state park visitor centers are closed. It is important to note, state parks remain open only to visitors residing in the same county where the state park is located.
Boating and fishing: