Groups Urge IL Governor to Take Next Step to Block Invasive Asian Carp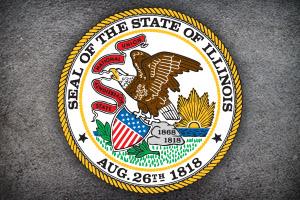 Last week, NMMA joined a host of organizations in delivering a petition to Illinois Governor J.B. Pritzker, requesting him to sign a letter of agreement with the U.S. Army Corps of Engineers (ACOE) that would allow ACOE to move forward with planning, engineering, and designing (PED) for the fortification of Brandon Road Lock and Dam in Joliet – a critical choke-point for invasive Asian carp about 50 miles downstream of Chicago. The petition was signed by 3,894 residents of the Great Lakes region, including business leaders and members of the outdoor recreation, scientific, academic and environmental conservation communities.
A study released this month demonstrates a solid link between invasive Asian carp and sharp declines in economically important sport fish on the Upper Mississippi River. Routine testing also uncovered an abundance of invasive Asian carp eDNA hits in Bubbly Creek, a section of the Chicago River close to Lake Michigan.

The PED agreement with the ACOE remains unsigned by Governor Pritzker, but other leaders in the region have come together and pledged financial support for the Brandon Road project, including Michigan Governor Gretchen Whitmer and Michigan's Department of Natural Resources, who agreed to contribute $8 million to the effort earlier this month. By signing off on the agreement, Governor Pritzker would send a strong message to leaders in Congress that Illinois is serious about adding new protections against Asian carp with the full support of the Great Lakes region.
"If invasive Asian carp are allowed to settle in Lake Michigan, they will not only destroy the environment of the Great Lakes region but also threaten the local $7 billion fishing and $16 billion boating industries," said Libby Yranski, director of state government relations for the National Marine Manufacturers Association. "In addition to the environmental and economic concerns posed by Asian carp, they violently jump out of the water, creating a safety issue for boaters – which is all the more reason why we're urging Governor Pritzker to take swift action on this issue."
"Fortifying Brandon Road Lock and Dam is a critical next step to keep invasive Asian Carp from creeping any closer to Lake Michigan and crashing our regional economy," said Joel Brammeier, CEO of the Alliance for the Great Lakes. "We are hopeful that Governor Pritzker will listen to his constituents and sign the agreement soon so that the U.S. Army Corps of Engineers can move to the next phase of the project. Continued delay threatens the whole region's way of life." The Army Corps plan, if approved by Congress, would include an engineered channel with an acoustic fish deterrent, air bubble curtain, and electric barrier that would help prevent the invasive Asian carp from moving from the Mississippi River basin to the Great Lakes basin through the Chicago Area Waterway System.
"A recent study confirmed the negative impact that Asian carp are having on native fish in the Mississippi River. We can't afford to let them in the Great Lakes and we can't delay any longer," added Marc Smith, director of conservation partnerships at the National Wildlife Federation's Great Lakes Regional Center. "The time is now for Illinois to work with the Army Corps of Engineers and for Congress to approve the Brandon Road plan to stop Asian carp. Our waters, our fisheries, our wildlife, our economy, and our way of life depend on it."
"The 40 million people who live in the Great Lakes region depend on this massive freshwater resource for food, water, employment and recreation," said Andrea Densham, senior director of conservation policy at Shedd Aquarium. "We must work together to restore our Great Lakes and prevent damage from an invasive species as destructive as Asian carp. Failing to act will disrupt the Great Lakes ecosystem and everything that relies on it, from native wildlife to local businesses."
"Lake Michigan is a priceless resource for Illinois, and Asian Carp could wreak havoc on its ecosystem," said Jack Darin, executive director of the Illinois chapter of the Sierra Club. "We're pleased that Governor Pritzker has pledged support for the Brandon Road project, which can stop the invaders and create good jobs in the process. Now it's time to act, as fast as possible, to protect the Great Lakes and get this project moving."
"If they are not stopped, Asian carp would wreak havoc on sportfish and sportfishing in the Great Lakes," said American Sportfishing Association's Inland Fisheries Policy Manager Chad Tokowicz. "The Great Lakes' fisheries have a $7 billion impact on the economy, underscoring the need of Governor Pritzker to take action to help stop this aquatic invasive species. We strongly urge the governor to take decisive action on a proposal to fortify the Brandon Road Lock and Dam so the Army Corps of Engineers can move forward with innovative infrastructure that can stop their spread into the Great Lakes."
"The livelihoods of hundreds of thousands of families depend on the health of the Great Lakes," said Dr. Barry A. Coddens, chairman of the Illinois Council of Trout Unlimited. "I've seen the devastation that these invasive Asian carp have already brought to the fishing and recreational boating industries, communities in our state, and to our neighbors. We asked our members to sign this petition because we can't afford to wait another day to take action."
The petition is available on the Alliance for the Great Lakes' website.
For more information, please contact NMMA director of state government relations, Libby Yranski at yranski@nmma.org.