Members of Congress Join NMMA for Aquatic Invasive Species Event on Capitol Hill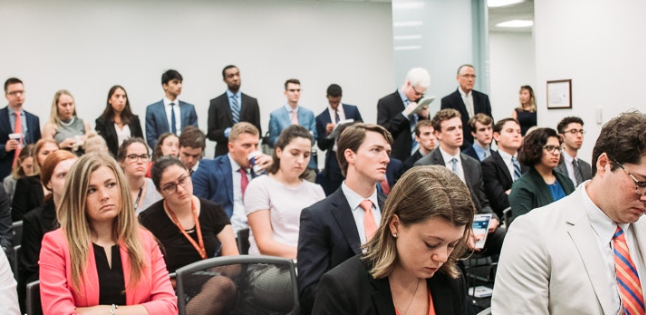 Yesterday, NMMA – in coordination with the Congressional Boating Caucus (CBC) – hosted a briefing event for nearly 100 congressional staff in Washington, D.C. to examine the environmental and economic problems created by aquatic invasive species (AIS). The event – titled "How Aquatic Invasive Species are Hurting Communities Throughout the Country" – featured opening remarks from Representative James Comer (R-KY-01) and Representative Joyce Beatty (D-OH-03).
According to Representative Comer, AIS have had a harmful impact on the economy throughout his district, including tourism, property values, and other sectors. Representative Beatty noted that AIS are detrimental to recreational boating and stopping and reversing the spread of AIS is a bipartisan issue that Congress can and should address.
Following the opening remarks, NMMA director of federal government relations, Clay Crabtree facilitated a dialogue about the billions of dollars AIS cost the U.S. each year and how Congress can help support policies, projects, and research to fight against AIS. Crabtree was joined on the panel by
Marc Gaden PhD, Communications Director and Legislative Liaison for the Great Lakes Fishery Commission; Ron Brooks, Fisheries Division Director of the Kentucky Department of Fish and Wildlife Resources; and Mark Menendez, Professional Angler on the Bassmaster Elite Tour.
Dr. Gaden highlighted the importance of protecting the $7 billion Great Lakes fishery from Asian carp migrating north, while Mr. Brooks discussed the need for additional funding to combat AIS in the Mississippi River basin – which comprises 40 percent of the country. Mr. Menendez detailed his firsthand accounts of the devasting impacts AIS can have on fisheries, including those he relies on to earn a living.
In advance of the briefing, NMMA released two AIS factsheet:
NMMA thanks Representative Comer, Representative Beatty, the panelists and audience members for attending and participating in the event. For more information, please contact NMMA director of federal government relations, Clay Crabtree at ccrabtree@nmma.org.
Photo caption: Congressional staffers listening to speakers during NMMA's AIS briefing on Capitol Hill.