Boating Industry Representatives Attend White House Event on Environmental Leadership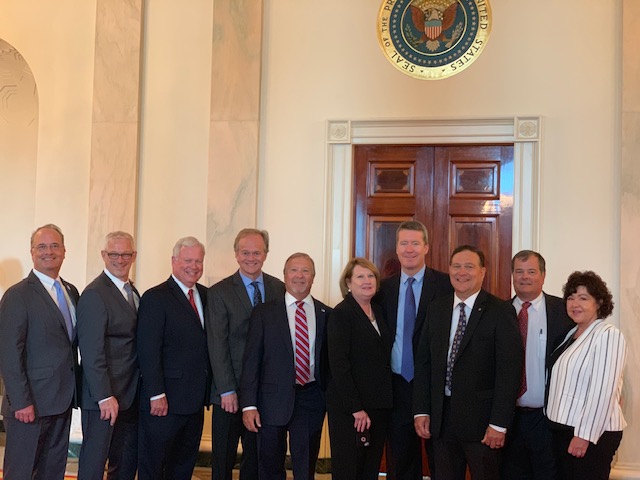 Yesterday, NMMA and several recreational boating industry executives joined President Donald Trump at the White House for a speech on the need to strike a balance between the country's environmental protections and energy requirements. In addition to NMMA and its members, representatives from the American Sportfishing Association, BoatUS, Center for Sportfishing Policy, and Coastal Conservation Association attended the president's address.
During his remarks, President Trump raised a range of issues that affect the industry, including marine litter, toxic algae, Everglades restoration, outdoor recreation access, and air quality. Environmental Protection Agency Administrator Andrew Wheeler and Department of the Interior Secretary David Bernhardt also spoke at the event.
In 2018, the president signed the Save Our Seas Act, which reauthorizes the NOAA Marine Debris Program, promotes international action to reduce marine debris, and authorizes cleanup and response actions needed as a result of severe marine debris events. This follows executive action by the president to improve federal coordination on matters involving ocean, coastal, and Great Lakes waters, including prioritizing research and technology needs and expanding public access to ocean-related data. The Trump administration has also prioritized funding for environmental restoration projects in the Florida Everglades, including more than $500 million to accelerate completion of Herbert Hoover Dike rehabilitation at Lake Okeechobee.
Furthermore, the Department of the Interior has proposed to open more than a million acres across the country for expanded hunting and fishing access, ensuring that hunters, anglers, and outdoor enthusiasts are able to enjoy the nation's lands and waters.

NMMA supports the conservation of America's waterways and marine ecosystems, which are integral to the environment and economy. NMMA appreciates President Trump's efforts on these issues and his leadership on expanding outdoor recreation opportunities on our public lands and waters and looks forward to ensuring programs and funding meet the growing environmental demands on the boating community.
For more information, please contact NMMA senior vice president of government and legal affairs, Nicole Vasilaros at nvasilaros@nmma.org or NMMA director of political advocacy and engagement, Erica Crocker at ecrocker@nmma.org.
Photo caption (from left to right): Ned Trigg, Executive Vice President of Dometic Corporation's Marine Division; Frank Hugelmeyer, President-Elect of NMMA; Thom Dammrich, President of NMMA; Bill Yeargin, President and CEO of Correct Craft; Joe Neber, President and Founder of Contender Boats; Joan Maxwell, President and Co-Founder of Regulator Marine; Steve Heese, President and CEO of Chris-Craft Corporation; Ben Speciale, President of Yamaha's U.S. Marine Business Unit and Chairman of NMMA's Board of Directors; Bill Watters, President of Syntec Industries; and Ann Baldree, Vice President of Chaparral and Robalo Boats.
NMMA members who attended but are not pictured: Scott Porter, President of Formula Boats; and Chuck Rowe, President of Indmar Products.