Senator David Perdue Visits Chaparral Boats, Joins the Congressional Boating Caucus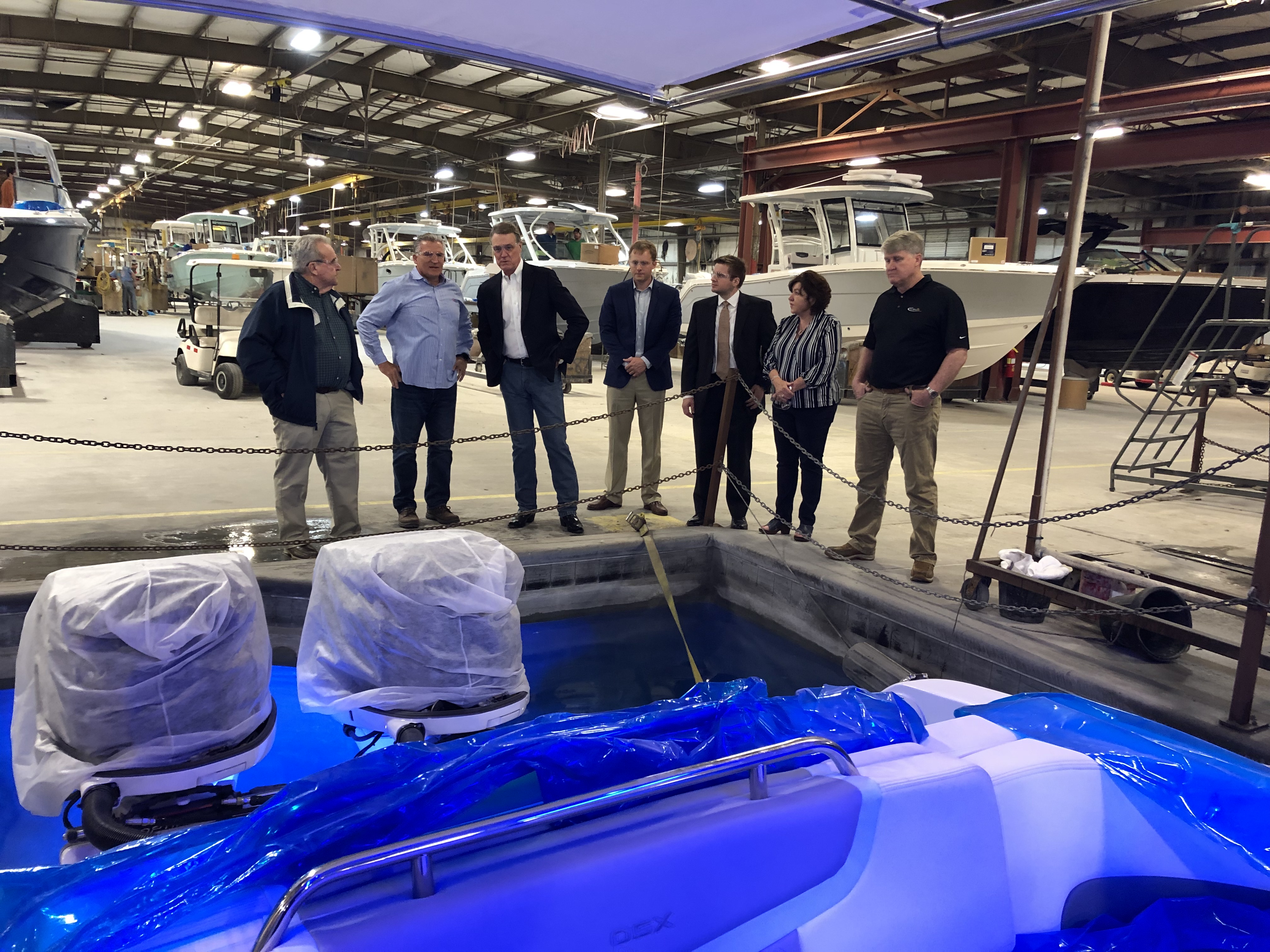 Last week, Senator David Perdue (R-GA) toured Chaparral Boats Inc.'s facility in Nashville, Georgia – which includes over 1 million square feet of manufacturing space and employs a full-time roster of 1,000 people. NMMA encourages other members to work with them on scheduling factory visits with their respective elected officials; critically important opportunities for highlighting the recreational boating industry.
During Senator Perdue's visit, he toured the plants' facilities and witnessed the manufacturing process first-hand. An industrial engineering graduate from Georgia Tech, Perdue engaged with the entire Chaparral team throughout his tour, discussing a range of issues – such as workforce development and trade – and asking questions related to production and logistics.
"I was extremely impressed with Senator Perdue's knowledge of the current issues facing our industry," said Chaparral founder Buck Pegg. "With his background as a Fortune 500 CEO, he was very familiar with the workforce challenges we are facing as well as the negative impact of the tariffs, both U.S. imposed and retaliatory. It was encouraging to converse with a politician who had been responsible for a large payroll and was pro-business."
"I haven't had the boat bug in 10 years, but this has been wonderful," said Senator Perdue." Recognizing the $4.3 billion economic impact that the recreational boating industry has in the state of Georgia, Senator Perdue enthusiastically agreed to join the Congressional Boating Caucus during his visit.
"We were honored to have Senator Perdue visit our production facilities," said Ann Baldree, senior vice president at Chaparral. "Being a lifelong boater, he is an advocate for our industry and fully comprehends our challenges and opportunities. He was interested in what it would take to support our growth and to continue to sustain our local economy. We have been the largest employer in our region for over fifty years, and our local economic impact is substantial."
If you have questions or are interested in scheduling a facility visit with your members of Congress, please contact NMMA senior vice president of government relations and legal affairs, Nicole Vasilaros at nvasilaros@nmma.org or NMMA manager of southeast policy and engagement, Lee Gatts at lgatts@nmma.org.
Photo caption: Senator Perdue (3rd from left) discusses production and testing with members of the Chaparral team.