NASBLA's Spring Aboard Campaign Runs March 17-23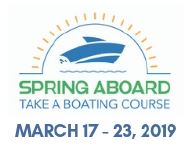 The National Association of State Boating Law Administrators (NASBLA)'s Spring Aboard – Take A Boating Education Course campaign to encourage boaters to get educated prior to the kick-off of the boating season takes place next week.

Produced under a grant administered by the U.S. Coast Guard, the campaign promotes boating safety education, with many education providers and partners offering discounts or other incentives for students who enroll in or complete a boating safety course during the week of March 17-23.

Check with local course providers or your state boating agency to find out what courses are accepted in your state. Many states require completion of a NASBLA-approved course for powerboat rental or operation.

To ensure a course qualifies, look for the 'NASBLA-Approved' logo. Supported by state, federal and nonprofit partners and open to participation by all states, territories, boating education organizations, instructors, and course providers - find more information at www.springaboard.org.