Reminder: Take Action to Oppose Boat Tariffs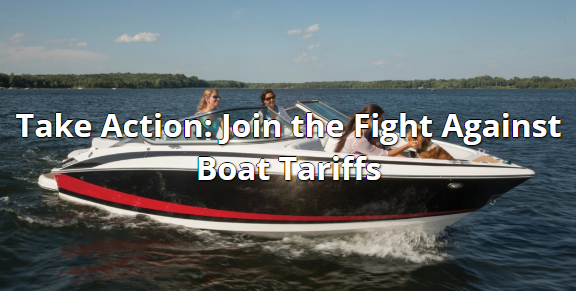 NMMA issued a Boating United alert last week, calling on all industry stakeholders to take action and tell President Trump to withdraw tariffs targeting boats. NMMA continues to pressure the Trump Administration to resolve the intensifying trade conflict and is working with Congress on legislative solutions.
U.S. recreational boats are being singled out by three different types of tariffs. As a result, the industry is being confronted with rising costs and retaliation from top trading partners.
Retaliatory tariffs from Canada, the European Union, and Mexico on U.S. boats – 10, 25, and 15 percent respectively – jeopardize the marketability of marine products. In fact, boat dealers in Canada are already canceling orders and at the start of the busy summer selling season.
The administration needs to hear from the industry about the negative downstream impact these compounding tariffs have on your business. Absent a comprehensive solution, the result will be less domestic production, higher prices for American consumers, and fewer jobs for American workers.
For more information, please contact NMMA Senior Vice President of Government and Legal Affairs, Nicole Vasilaros at nvasilaros@nmma.org or NMMA Director of Federal Affairs, Lance West at lwest@nmma.org.