Discover Boating Launches Free Social Media Content Resource for Stakeholders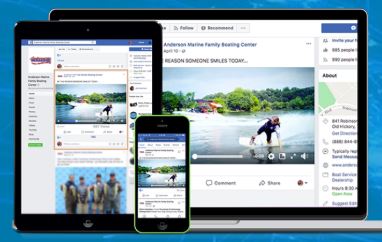 Discover Boating can help simplify your social media efforts with a new free resource to provide relevant boating lifestyle content for your Facebook business page. This new social media content program, called Get Social with Discover Boating, is now available to industry stakeholders in the U.S. and Canada at no cost.

Today's consumer spends an average of 40 minutes per day on Facebook and it's likely that in a Google search of your business, your Facebook business page appears in one of the top four positions. Focusing on the content on your Facebook business page is important, but creating and managing that social content on a daily basis can be a significant undertaking.

This program offers a no-cost solution to increase your company's presence and engagement on Facebook. Discover Boating is a resource for boating lifestyle content and program users will have the option to select between social content for the U.S., Canada-English or Canada-French.

The Get Social with Discover Boating program is managed by LotVantage, a digital marketing software company, overseeing the curation and distribution of the Facebook content from Discover Boating channels in the U.S. and Canada to stakeholder user accounts.

How it works

Sign Up: Enroll to join the program here: http://info.lotvantage.com/discoverboating and enter basic information about your business that will be shared with Discover Boating's program partner, LotVantage.

Choose Automated or Manual Posting: Want to "set it and forget it"? Select the Automated Posting option and two scheduled boating lifestyle posts per week will automatically appear in your Facebook newsfeed. Prefer to select a specific post to run when needed? Select the Manual Posting Only option to access the content library to manually schedule what will run in your newsfeed.

Identify Your Posting Preferences: Choose between U.S., Canada-English or Canada-French posting categories. The sign-up process takes less than five minutes then there's nothing more the user needs to do. LotVantage will send an email with final instructions for getting set up in the program. The email will come from DiscoverBoating@LotVantage.com.

Enable Access on Facebook: Regardless of the posting preference you choose, LotVantage will need to request partner access to your Facebook business page. The confirmation email will have detailed, easy to follow instructions on how to accept the request so your posting can begin!

Posting Starts: Once onboarded and depending on your posting preference, engaging boating lifestyle content will be shared on your Facebook business page – automatically or manually. You can edit the captions to these posts once they appear on your Facebook timeline.

There is no cost to the user and this Discover Boating program is available to all recreational boating industry stakeholders.

Click here to sign up for Get Social with Discover Boating program

Important Note: LotVantage does not take control of a user's Facebook business page. Users will continue to maintain their Facebook business page as they are currently doing (posting their own content, photos, comments, etc.), LotVantage will only add Discover Boating content to their feed based on their posting preference selection.

For further program information, visit GrowBoating.org.