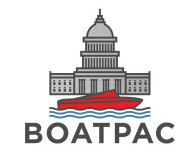 The NMMA and MRAA BoatPAC is THRILLED to announce we exceeded our 2017 goal of $150,000, raising almost $154,000 from 312 contributors! With this support, NMMA and MRAA tackled important issues on Capitol Hill while advocating on behalf of the recreational boating industry. We couldn't have achieved what we did in our 2017 fiscal year (Oct-Sept) without this support. We'd like to recognize and thank not only individual contributors but the companies that stepped up in a big way and signed on for payroll deduction. These include: Beneteau, BRP, Chaparral Boats, Chris-Craft, Cobalt Boats, Formula Boats, Grady White, HydroHoist, International Marina Group, Intrepid, Maverick Boats, MRAA, NMMA, Navico, NorCross Marine, Regulator Marine, SeaStar Solutions, and Scout Boats.
In addition to the companies participating in payroll deduction, a number of companies stepped up as BoatPAC corporate sponsors including: BRP, Cobalt Boats, Enovation Controls, Evinrude, HydroHoist, International Yacht Brokers Association, Manion, Gaynor and Manning, LLP, SeaDoo, Sea Star Solutions, SeaTow, SureShade and Yamaha Marine.
Thank you to each company and contributor for your dedication to recreational boating!
To learn more about BoatPAC please contact NMMA's Erica Crocker at ecrocker@nmma.org