EPA Invites NMMA to Join Smart Sectors Partnership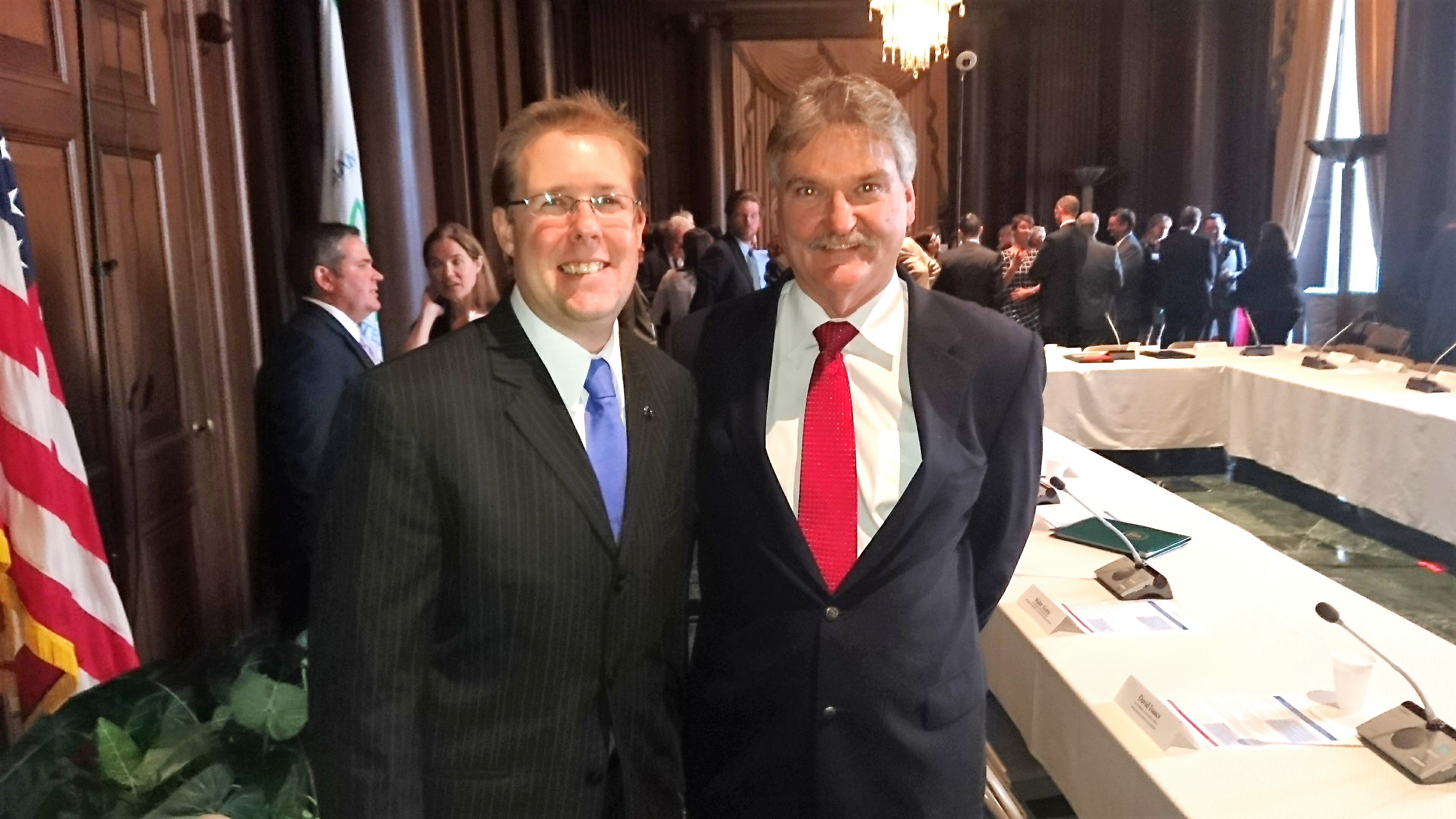 On Tuesday, NMMA joined the U.S. Environmental Protection Agency (EPA) for the launch of Smart Sectors, a partnership program between the Agency and regulated industries, like marine manufacturing, focused on achieving better environmental outcomes. Being part of this program is a tremendous step forward for our industry as it creates more meaninful collaboration and builds more open dialogue with EPA. NMMA's John McKnight was invited to attend the launch event alongside BRP-Evinrude's Jeff Wasil. Other industries in the partnership include Aerospace, Agriculture, Automotive, Cement and Concrete, Chemical Manufacturing, Construction, Electronics and Technology, Forestry and Wood Products, Iron and Steel, Mining, Oil and Gas, and Utilities and Power Generation.
"When we consider American business as a partner, as opposed to an adversary, we can achieve better environmental outcomes," said EPA Administrator Scott Pruitt. "The Smart Sectors program is designed to effectively engage business partners throughout the regulatory process. The previous administration created a narrative that you can't be pro-business and pro-environment. This program is one of the many ways we can address that false choice and work together to protect the environment. When industries and regulators better understand each other, the economy, public, and the environment all benefit."
"We are thrilled to be part of the EPA's launch of its Smart Sectors Program and are proud to represent an industry that's always first in line when it comes to partnering with EPA to improve its processes and benefits," said John McKnight, senior vice president of government relations for the National Marine Manufacturers Association. "The recreational boating industry is unique in that while the EPA, the State of California, and many international environmental government agencies place stringent environmental requirements on our products, our customers—the 142 million Americans who went boating last year—also demand and expect clean water and a healthy environment in which to fish, swim, and enjoy watersports. As a treasured American pastime with 95 percent of the boats sold in the U.S., made in the U.S., an estimated 35,000 marine-related businesses, which provide approximately 650,000 jobs, and an estimated $121 billion in economic impact, the recreational boating industry is one of our country's driving economic engines that is eager to continue meaningful collaboration with the EPA."
A sector-based approach can provide benefits, such as: increased long-term certainty and predictability, creative solutions based on sound data; and, more sensible policies to improve environmental protection. Program leads for each sector will serve as ombudsmen within the Agency across program and regional offices. Staff will also conduct educational site tours, host roundtables with EPA leadership, analyze data and advise about options for environmental improvement; maintain open dialogue with business partners and their environmental committees; and, develop reports that profile the impact of each sector on the environment and the economy.
Smart Sectors aims to facilitate better communication and streamline operations internally at EPA. The program is located in the Office of Policy's Immediate Office, which enables the sector leads to work across EPA's land, water, air, and chemical program offices, as well as with environmental justice, enforcement and compliance assistance, and other offices, including EPA regional offices.
For more information, visit www.epa.gov/smartsectors