What To Do With the 99% of Website Visitors Who Don't Fill Out a Lead Form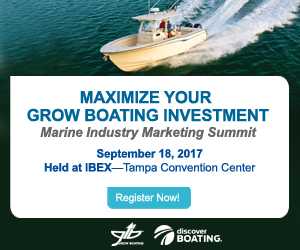 Consumers choose to research boat brand websites rather than filling out lead forms on Discover Boating websites, 1000 to 1. How are you engaging the traffic that comes to your website to learn more about your brand? What are you doing to ensure that you're not only providing them the content they're looking for, but nurturing them in the process so your brand remains top of mind?

Join your marine industry peers for a half-day marketing conference that will feature presentations on new consumer research, industry insights and best practices to help create a pipeline of customers for your business.

Get the most from your Grow Boating investment by attending the first-ever Marine Industry Marketing Summit and learn practical applications to grow your customer base and sales.

Maximize Your Grow Boating Investment
Marine Industry Marketing Summit
September 18, 2017
IBEX Show – Tampa Convention Center
1pm – 5pm

REGISTER TODAY!

Summit Agenda

Data Drives Success—Research to Power Your Marketing Efforts
Understanding recreational boating trends and how today's consumer shops for boats is critical to developing a smart marketing strategy. This session explores new consumer research and offers insight on past, present and future boaters – to ultimately help inform your marketing efforts.


The Challenge Ahead: Industry Insights & Statistics, Jack Ellis, Info-Link
Buying & Owning Their First Boat: Why People Decide to Enter & Leave Our Category, Meredith Engelen, OLSON

Insights Into First-Time Boat Shoppers Buying Process & Why They Quit, For Good

Best Practices for Turning Web Referrals into Prospects and Boat Buyers
Armida Markarova CEO & Founder, Marketing Strategy Hub
Steve Pizzolato CEO & Founder, Avala Marketing Group
Your website makes it easy for consumers to research your products before committing to buy them. But how many of those consumers leave your website without leaving their contact information to become a prospect? Take away actionable ideas and recommendations for developing marketing practices to turn your web traffic into prospects and boat buyers.
Using Your Website Analytics to Market Effectively
Winning Inbound Marketing Practices

Content Marketing: Attracting Prospects with Valuable Content
Nurture Marketing: What to do With 99% of Website Visitors Who Don't Fill Out a Lead Form

Questions? Please contact Freya Olsen at folsen@nmma.org or 312.946.6255.