Secretary Zinke Announces Boating Infrastructure Grants in Yorktown, VA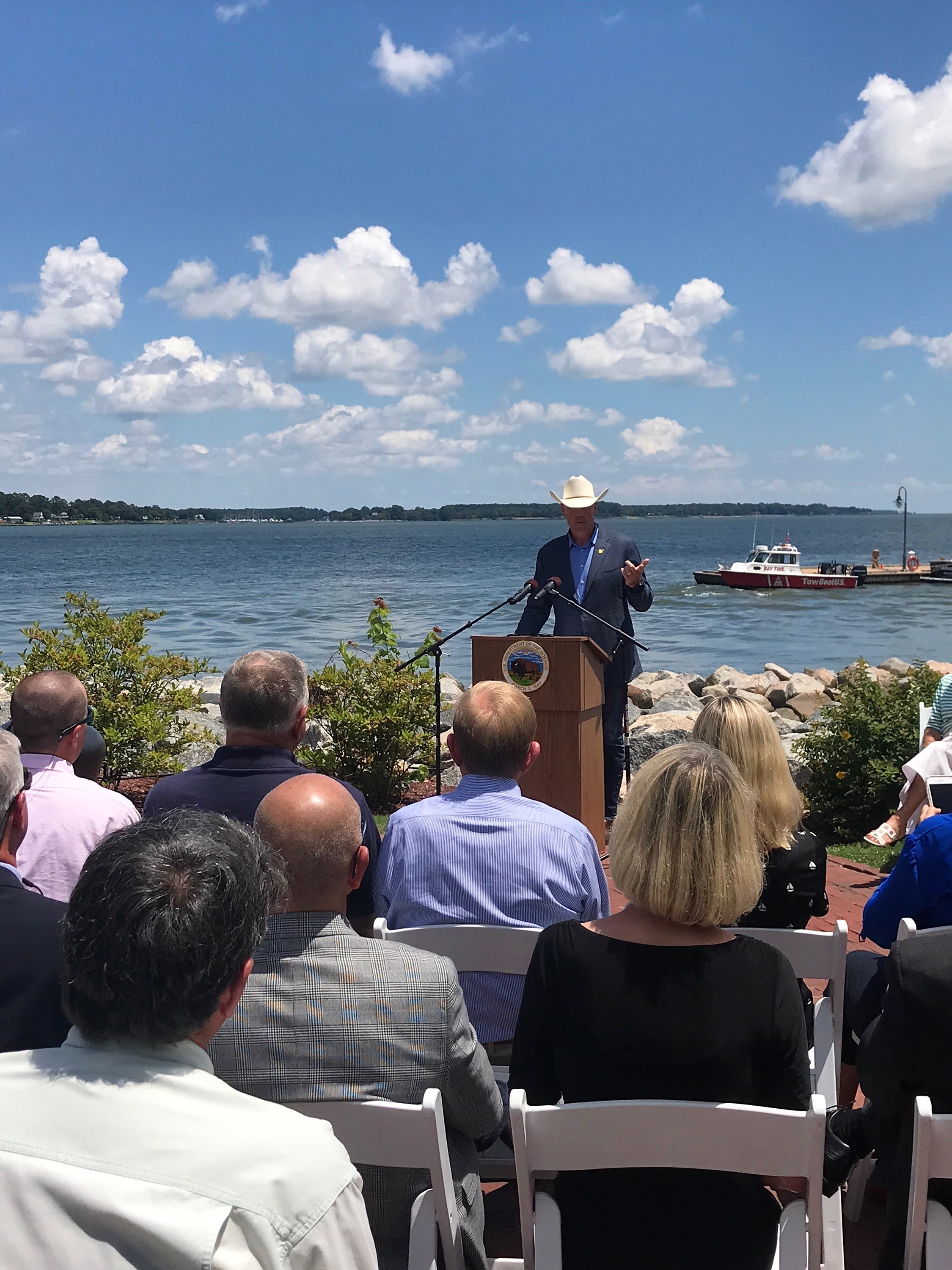 Last Friday, during an event with NMMA and other recreational boating and fishing industry members present, U.S. Secretary of the Interior Ryan Zinke announced $14.7 million in 2017-18 funding for the federal
Boating Infrastructure Grant
(BIG) program.
Funding for BIG comes from the Sport Fish Restoration and Boating Trust Fund (SFRBTF), an approximately $600 million fund paid for by boaters and anglers through motor boat fuel and excise taxes on fishing and related equipment. 72 percent of the total Trust Fund dollars come from motor boat fuel taxes. This user pay, user benefit Trust Fund is administered in part by the United Stated Fish and Wildlife Service for boating infrastructure and access grants such as BIG.
The Secretary announced more than $769,000 for Virginia at the Yorktown Historic Freight Shed Lawn at the Riverwalk Landing, which is slated to receive grant money. The BIG program recognizes that transient boaters offer economic benefits and add to the vitality of waterfront communities, marinas and boat clubs. Funds go to construct, renovate or maintain transient-boater facilities, including docks, moorings, restrooms (including floating ones), fuel docks, electricity, water and sewage utilities, recycling and pumpout stations, and potentially small dredging projects.
Prior to the event, the Secretary engaged in a round table discussion with a variety of local boating and fishing stakeholders, including NMMA staff and members of the States Organization for Boating Access (SOBA), focusing on the importance of such grants, the economic impact of boating to local economies, and opportunities for greater efficiencies within the Department of Interior.
There are two tiers of funding open for applications: a non-competitive "mini-grant" up to $200,000 for small maintenance projects, and a competitive second tier offering up to $1.5 million. Grants are for projects located on bodies of water deep enough for boats 26 feet in length staying overnight from one to 15 days, and to navigate at a minimum depth of 6 feet. A minimum of 25 percent matching funds is required.
To find more information on BIG and other related programs, see
here
.