Successful 2017 American Boating Congress Draws Nearly 250 Attendees, Showcases Marine Industry's Importance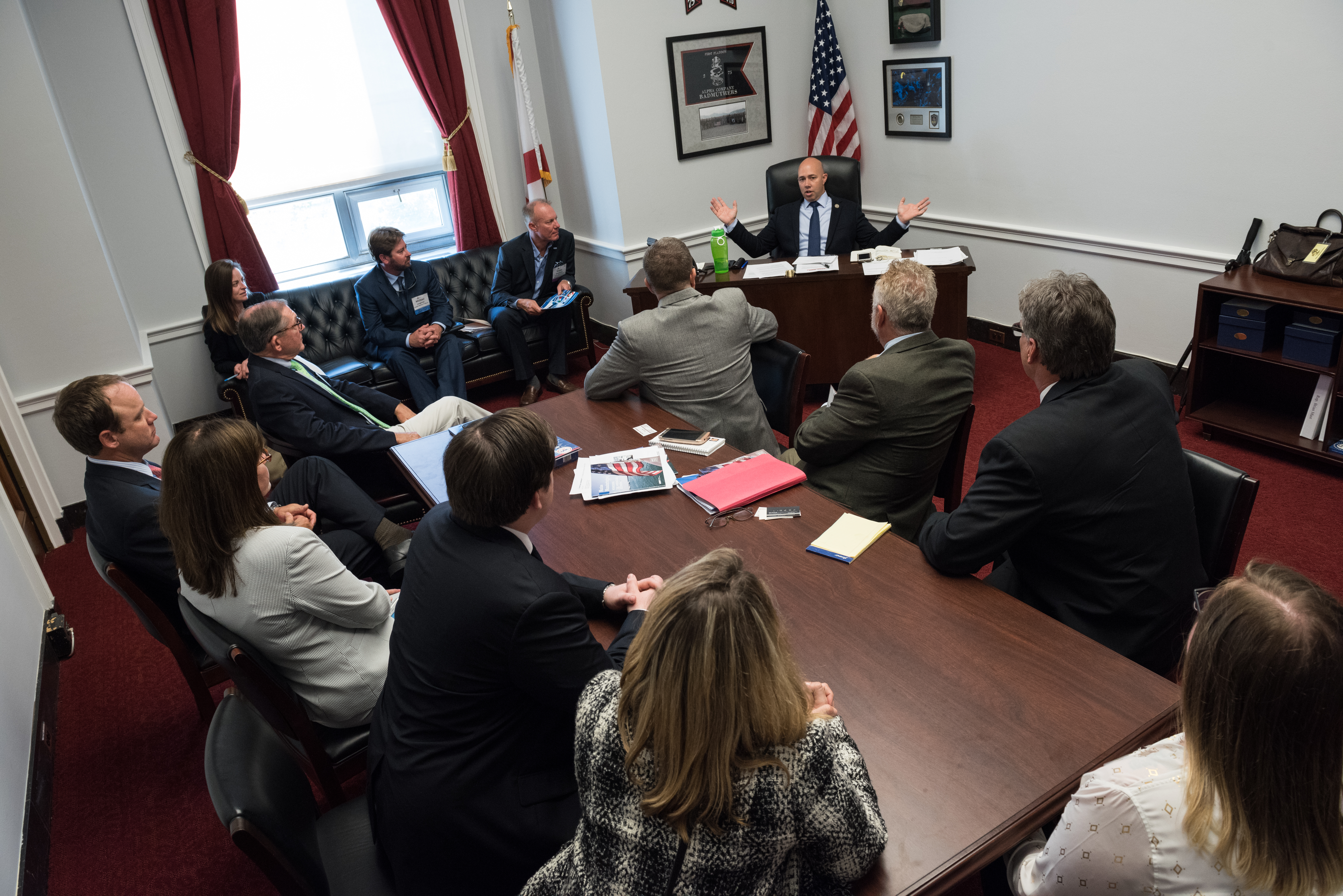 The 2017 American Boating Congress (ABC) - the marine industry's premier political and legislative event produced by the National Marine Manufacturers Association (NMMA) and more than 20 co-hosts – wrapped up last week, drawing nearly 250 attendees who gathered on Capitol Hill to meet with the nation's leaders and champion issues most impacting the recreational boating and fishing industries.
Core policies including infrastructure, access, ethanol, workforce development, tax reform, and conservation were the focus of the conference's new Issue Workshops and during Hill Visits.
An impressive 185 Hill Visits took place on Capitol Hill—meetings with members of the marine industry and Congressional decision makers—allowing the industry to amplify its voice and demonstrate its engagement on key matters impacting boating and fishing. Members of the recreational marine industry met with politicians including Sen. Marco Rubio (R-Fla.), Rep. Duncan Hunter (R-Calif.), Sen. Debbie Stabenow (D-Mich.) and Rep. Suzan DelBene (D-Wash.) and more.
Thanks to these advocacy efforts on the Hill, the Congressional Boating Caucus immediately signed up two new members:
Representative Debbie Wasserman Schultz (D-Fla.)
Representative Jim Banks (R-Ind.)
"NMMA is overwhelmed at the number of organizations across our industry that came together during ABC to educate the nation's leaders on the significant impact recreational boating and fishing have throughout the U.S.," said NMMA President Thom Dammrich. "Making a lasting impact through advocacy requires every single voice our industry has to offer, and by joining forces each year, our presence has only continued to strengthen ties in Washington, D.C., creating positive change for recreational boating."
"This year's ABC was one of the largest gatherings of boating and fishing stakeholders on Capitol Hill—we came together as part of our collective interests in promoting and protecting our industry and as a result demonstrated our impact among key decision makers," noted Nicole Vasilaros, vice president of federal and legal affairs for NMMA. "The positive energy and enthusiasm among attendees was palpable as we committed to working together to make a difference in our industry and met with lawmakers to share our story. We are excited to explore next steps coming out of the Hill Visits and we thank all ABC co-hosts, attendees, and sponsors for their dedication and interest in advocacy."
Highlights from ABC 2017 include:
During ABC, NMMA recognized leaders in the industry with three awards:

BoatPAC Champions for Growth Award: Grady White Boats, for their dedication to BoatPAC and their ongoing industry leadership in advocacy.
Hammond Marine Industry Leadership Award: Maverick Boat Group President, Scott Deal for his tireless service on behalf of recreational boating and fishing, and as an advocate for conservation and responsible fishing.
ABC Co-Host Marketing Award: Connecticut Marine Trades Association for their excellence in promoting ABC and generating industry awareness on advocacy.

Keynote speaker Jake Tapper, the influential and award-winning journalist and author, and Chief CNN Washington Correspondent and Anchor, addressed the role of media in politics.
An engaging speaker line-up including Sen. Joe Donnelly (IN), Rep. Tom MacArthur (NJ-03) and Paul Rauch, U.S. Fish and Wildlife Service's Assistant Director for Wildlife and Sport Fish Restoration, provided attendees with a front row seat to political insights impacting the boating industry.
The launch of nine new Issue Workshops, divided into three tracks – Business, Environment and Access, and Workforce and Compliance –provided attendees with distinct opportunities to learn more about advocacy and the issues most impacting the recreational boating and fishing industry and its businesses.
The "Inside the Beltway, Republican and Democratic Insights" panel provided an inside look at understanding politics, an outlook for 2017, and how the upcoming midterm elections could impact policy decisions on Capitol Hill.
Welcome Reception at the Carnegie Library – a networking opportunity in an historic location for attendees to network and kick-off the conference.
Recreational Angling & Boating PAC Reception – held on an iconic rooftop overlooking the Capitol.
National Safe Boating Council and National Marine Manufacturers Association Congressional Reception.
The 2018 American Boating Congress is scheduled for April 30-May 2. Contact Laura Crisler for more information on how to get involved at lcrisler@nmma.org.
ABC would not be possible without the generous support of the following sponsors:
PRESIDENT'S LEVEL – Brunswick and Mercury, Yamaha and Yamaha Watercraft; ADMIRAL'S LEVEL – Correct Craft, Indmar; CAPTAIN'S LEVEL – BRP and Evinrude, Center for Sportfishing Policy, Groupe Beneteau, SeaStar Solutions, White River Marine Group; FIRST MATE'S LEVEL – ILMOR, Marine Retailers Association of the Americas, Sea Tow, Suzuki, Volvo Penta; PURSER'S LEVEL – BoatU.S., Chaparral, Dometic, Freedom Boat Club, Infinity Luxury Woven Fabrics, International Yacht Brokers Association, Marine Concepts, SureShade, Syntec, Water Sports Industry Association.
The planning, development and promotion of ABC is made possible by this year's co-hosts:
American Sportfishing Association, Association of Marina Industries, Boating Industry Magazine, BoatU.S., Boats Group, Center for Sportfishing Policy, Connecticut Marine Trades Association, International Yacht Brokers Association, Lake Erie Marine Trades Association, Marine Industries Association of South Florida, Marine Retailers Association of the Americas, Marine Trades Association of New Jersey, Michigan Boating Industries Association, National Marine Distributors Association, National Marine Lenders Association, National Marine Manufacturers Association, National Safe Boating Council, National Yacht Broker Certification Program, Norman-Spencer Marine Insurance, Soundings Trade Only, States Organization for Boating Access, The American Boat Builders and Repairers Association, The Boating Trade Association of Metropolitan Houston, U.S. Superyacht Association, Yacht Brokers Association of America.
For media inquiries, please contact Kelsi Morris at kmorris@nmma.org.