The National Marine Manufacturers Association Hall of Fame was established in 1988 to recognize and honor individuals who have made or continue to make substantial contributions toward the advancement of the marine industry. It is NMMA's most prestigious recognition.
HALL OF FAME NOMINATION CRITERIA
To be eligible for the NMMA Hall of Fame Award one must:
Made a substantial and lasting impact on the industry or their particular segment
Known in the industry and is beyond personal or professional reproach
Was or continues to be a member or supporter of NMMA
Actively involved in the marine industry for a minimum of ten years
NOMINATION PROCESS
Nominations are currently closed and will open during Summer 2019.
For questions on the Hall of Fame Award process, please contact:
Rachel Harmon
National Marine Manufacturers Association
Hall of Fame Award Nomination
231 South LaSalle Street, Suite 2050
Chicago, IL 60604
Phone: 312.946.6247
Email: rharmon@nmma.org
Below you can learn about all Hall of Fame Award recipients:
1989: Alan J. Freedman, George M. Good, James R. Wynne, Ralph S. Evinrude and William Edward Muncey
Alan J. Freedman, 1923–1982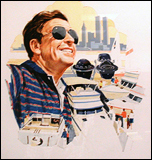 Alan Freedman became active in the marine industry in 1945, following his service in the Army's bombing group during World War II. He joined Ketcham & McDougall, Inc. as sales manager and assumed a role of leadership in the industry from that time forward. In 1953, he headed up the reorganization of the firm's sales management and operating systems as executive vice president. In 1969, he was named president and chairman of the board.
Alan had an enormous impact on the company as a whole and particularly on its subsidiary, Aqua Meter. When he started with Ketcham, Aqua Meter produced only marine speedometers. Over the next three decades, new products were added almost every year, expanding the product line to approximately 30 different marine instruments, including compasses, engine gauges, depth sounders and marine clocks.
As Alan guided the growth of Ketcham & McDougall from a small company to a national concern, he devoted more and more time to industry affairs. He was instrumental in founding the first marine accessory trade association in 1955, called National Marine Products Association (NMPA). As a member of their governing board, he was one of the negotiators dealing with the 1967 merger between the National Association of Engine & Boat Manufacturers (NAEBM).
One of the first members of the newly expanded Board of NAEBM, Freedman was appointed to head the negotiations between NAEBM and the Boating Industry Association (BIA) in the early 1970s. This culminated in the creation of the National Marine Manufacturers Association (NMMA). After the 1979 merger, he became chairman of the Shows Committee for the new association. Under his guidance, NMMA Boat Shows doubled in number from four to eight, providing members with strong new support in key marketing areas.
The same leadership he demonstrated in the marine industry was also evident in the community work he did for New York City. As president of the Municipal Art Society and the Public Art Fund, Alan was among the most energetic advocates of a better physical environment for the city. Additionally, he was founder and chairman of the WNYC Foundation, which provides private financing for New York's public radio station.
Alan Freeman was deeply respected in the marine industry, and his warmth and concern for others assure him a lasting place in the memories of all who enjoyed his wisdom and kindness.