Keynote Speaker, ABC Luncheon Tuesday, May 16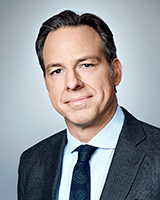 Jake Tapper
ABC Luncheon & Keynote Speaker -- Tues., May 16, 11:20-1pm
Tapper is the hugely-influential and award-winning journalist and author, and Chief CNN Washington Correspondent and Anchor. Tapper has been recognized for being a fair and balanced commentator and critic whose unbiased reporting makes him an "equal opportunity skeptic--confronting Democratic politicians just as toughly as he would Republican ones." Likeable, consistent, and up-to-the-minute, Tapper's no-spin commentary will make you think while keeping you entertained.
General Session Speakers, Wednesday, May 17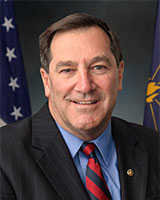 Sen. Joe Donnelly (D-IN)
Senator Joe Donnelly represents the State of Indiana in the U.S. Senate. Previously, he served the 2nd Congressional District of Indiana in the House of Representatives, and was first elected in 2006. After being reelected to the House in 2008 and 2010, he was elected to the Senate in 2012.

In the Senate, he serves on the Armed Services Committee, Banking Committee, Agriculture Committee, and Aging Committee. In the Armed Services Committee, he serves as the Ranking Member of the Strategic Forces Subcommittee and on the Airland and Emerging Threats and Capabilities Subcommittees. On the Agriculture Committee, he serves on the following subcommittees: Commodities, Markets, Trade and Risk Management, on which he serves as Ranking Member; Jobs, Rural Development and Energy; and Livestock, Marketing and Agriculture Security. On the Banking Committee, he serves as Ranking Member on the National Security and International Trade and Finance subcommittee and on the Financial Institutions and Consumer Protection subcommittee and the Economic Policy subcommittee.

Prior to serving in Congress, Joe helped run a small business in Mishawaka. As a result of this firsthand experience, Joe understands the unique challenges that business owners face today. Joe also practiced law in South Bend. Joe previously worked with both Democrats and Republicans to ensure fair and accurate election results by serving on the Indiana State Election Board from 1988 to 1989. Additionally, he was a member of the School Board for Mishawaka Marian High School from 1997 to 2001, serving as President during the 2000 to 2001 term.

Joe lives with his wife Jill in north central Indiana.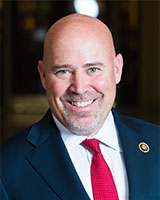 Rep. Tom MacArthur (R-NJ-03)
After graduating from Hofstra University, Tom MacArthur started out as an Insurance Adjuster in New York City, with an annual salary of $13,000. In the years that followed he went on to build a successful 30-year career in the insurance industry, which culminated in serving as Chairman and CEO of York Risk Services Group, Inc. which provided insurance and managed care services, and operated mutual insurers and a reinsurer. Under Tom's dynamic leadership, the company grew from a small local firm to a multi-national company with thousands of employees.

Tom brings experience as a limited partner in multiple private equity funds and Master Limited Partnerships. Tom recognizes the importance of all forms of capital to our economy and also brings considerable experience as a CEO and private investor in debt markets, including acquisition financing; corporate and public sector bonds; and mezzanine financing.

Following his career in the private sector, Tom also served as a local Mayor and Councilman.
Tom serves on the House Committee on Financial Services where his top priority will be reforming the National Flood Insurance Program to provide Jersey Shore residents certainty for the future.

In Congress, Tom has supported policies that spur job creation, empower individuals, provide our military the tools they need to defend our freedom in a dangerous world and honor the service of our veterans and their families when they come home.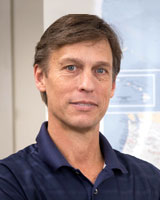 Paul Rauch, Assistant Director, Wildlife and Sport Fish Restoration Program, U.S. Fish and Wildlife Service
Paul Rauch is the Assistant Director for Wildlife and Sport Fish Restoration (WSFR) for the U.S. Fish and Wildlife Service (Service). Paul is responsible for the administration and oversight of federal grant programs that provide over $1 billion of funding annually to help States, territories and the District of Columbia conserve, protect, and enhance fish, wildlife, their habitats, and the hunting, sport fishing and recreational boating opportunities they provide.

Previously, Paul has served as Assistant Director for Business Management and Operations for the Service. In this role, he served as the Chief Financial Officer, Head of the Contracting Activity, Designated Safety and Health Official, and Senior Sustainability Officer, while leading the financial operations, procurement, facilities, personal property, engineering, economics and safety programs for the organization. In addition to his business management experience, Paul has a background in natural resource management and has worked in a variety of positions over his 24-year career with the Service.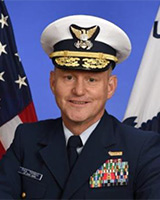 Rear Admiral Paul Thomas, United States Coast Guard
Rear Admiral Paul Thomas serves as the Assistant Commandant for Prevention Policy overseeing three Coast Guard directorates: Inspections and Compliance, Marine Transportation Systems, and Commercial Regulations and Standards. The programs under his leadership include: waterways management, navigation and boating safety, ports and facilities, merchant mariner credentialing, vessel documentation, marine casualty investigation, commercial vessel inspections, and port state control.

A specialist in Marine Safety, Security and Environmental Protection, he has served at the Marine Safety Center in Washington, DC; Marine Safety Office San Francisco Bay, CA; Marine Safety Detachment Port Canaveral, FL; and Marine Safety Office Jacksonville, FL. He has also served as Commanding Officer of Marine Safety Unit Galveston, TX; Commander of Coast Guard Sector Jacksonville, FL, and as the Director of Inspections and Compliance at Coast Guard Headquarters.

His other tours include Fifth Coast Guard District Chief of Staff, Executive Assistant to the Assistant Commandant for Marine Safety, Security and Stewardship; Military Assistant to the Director of Net Assessment in the Office of the Secretary of Defense; Commanding Officer of USCGC CAPE ROMAIN and Operations Officer of USCGC BLACKHAW.

Rear Admiral Thomas is a graduate of the US Coast Guard Academy and the Massachusetts Institute of Technology. In 2005 he completed a National Security Fellowship at Harvard University's John F. Kennedy School of Government, and in 2010 he served as a Senior Fellow to the Chief of Naval Operations Strategic Studies Group (SSG XXIX).

His military awards include the Legion of Merit, Meritorious Service Medal, Coast Guard Commendation Medal, Transportation 9/11 Medal, Joint Service Commendation Medal, and the Coast Guard Achievement Medal.