The Marine Industry's Premier Political & Legislative Event:  May 15–17, 2017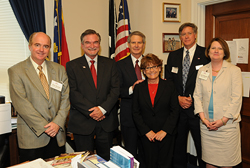 Hill Visits are the cornerstone of the American Boating Congress.  Each year, ABC attendees are given the chance to meet with hundreds of Senators, Congresspersons and top staffers to discuss legislative concerns and opportunities.  It's your chance to advocate directly on behalf of your business, and our industry's best opportunity to protect and promote recreational boating in Washington.
For ABC 2017 (May 15-17) Hill Visits will be organized by state delegation - enabling our attendees to be more effective advocates on Capitol Hill.  By working together with different peers from your state, you will be able to have more meetings with lawmakers and showcase the depth and diversity within our industry.  State delegations will maximize our ability as a conference, and as an industry, to get our message heard.
When you register, you will be asked a couple simple questions which will enable NMMA to assign you to the right state delegation based on your preferred location and interests.  All of the delegations will have a full schedule of meetings organized on your behalf, and be led by an experienced ABC advocate.  Unlike in years past, time will be built in to the conference agenda for a legislative strategy session, so you and your delegation can be better organized and more prepared to storm the Hill.
If you have any questions about the State Delgations, or Hill visits in general, do not hesitate to contact Laura Crisler at lcrisler@nmma.org.