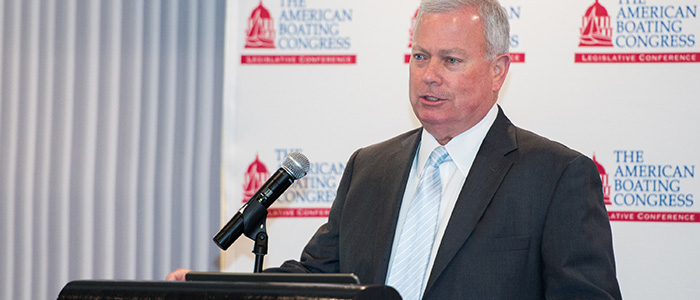 The Marine Industry's Premier Political & Legislative Event:  May 15–17, 2017
When constituents talk, Congress listens.
You are the industry's most effective advocate. No lobbyist is as influential as an employer or employee from a Congress member's district or state. Attending ABC and participating in Capitol Hill visits with others from your state is the best way to educate your representatives on issues that impact your business. It's your opportunity to build and strengthen relationships that lead to a brighter future for the recreational boating industry. NMMA will arrange your meetings and provide talking points and other resources to guide you through the ABC experience. All you have to do is register and attend!
ABC 2017 Highlights
DATE CHANGE: Join us at a special ABC luncheon with keynote speaker Jake Tapper on Tuesday, May 16!  Tapper is the hugely-influential and award-winning journalist and author, and Chief CNN Washington Correspondent and Anchor. Tapper has been recognized for being a fair and balanced commentator and critic whose unbiased reporting makes him an "equal opportunity skeptic—confronting Democratic politicians just as toughly as he would Republican ones." Likeable, consistent, and up-to-the-minute, Tapper's no-spin commentary will make you think while keeping you entertained.
 
New "Inside the Beltway—Republican and Democratic Insights," May 16 from 8:00-8:30a.m. Hear from Republican and Democratic DC strategists on the inside happenings from both the Hill and Administration to help you better navigate your Capitol Hill meetings and understand the legislative and political outlook for 2017 and beyond.
 
Customized Hill visits. In 2017, Hill visits will be organized by state delegation—enabling our attendees to be more effective advocates on Capitol Hill.  By working together with different peers from your state, you will be able to have more meetings with lawmakers and showcase the depth and diversity within our industry.
 
Welcome Reception, May 15 from 6:00–8:00p.m. at the Carnegie Library. A networking opportunity in an historic location for you and your industry peers to kick off the conference.
 
Recreational Angling & Boating PAC Reception, May 16 from 6:00–8:00p.m. Back by popular demand, the Angling and Boating PAC reception will be held on 20F Street NW, an iconic rooftop overlooking the Capitol. For information on how to attend, please contact Erica Crocker at ecrocker@nmma.org.
 
National Safe Boating Council and National Marine Manufacturers Association Congressional Reception, May 17 from 5:00–7:00p.m.
ABC 2017 Registration is OPEN!
Save money! Early bird registration closes March 20.
For more information, visit http://www.nmma.org/government/abc/registration. 
Contact:
Courtney Erhardt
cerhardt@nmma.org
2017 American Boating Congress Co-Hosts:
American Sportfishing Association • Association of Marina Industries • Boating Industry Magazine • BoatU.S. • Boats Group • Center for Sportfishing Policy • Connecticut Marine Trades Association • International Yacht Brokers Association • Lake Erie Marine Trades Association • Marine Industries Association of South Florida • Marine Retailers Association of the Americas • Marine Trades Association of New Jersey • Michigan Boating Industries Association • National Marine Distributors Association • National Marine Lenders Association • National Marine Manufacturers Association • National Safe Boating Council • National Yacht Broker Certification Program • Norman-Spencer Marine Insurance • Soundings Trade Only • States Organization for Boating Access • The American Boat Builders and Repairers Association • The Boating Trade Association of Metropolitan Houston • U.S. Superyacht Association • Yacht Brokers Association of America
Join other leading organizations in recreational boating and fishing to ensure your voice is heard.  Make a difference for your business, members and stakeholders by having a seat at the table and demonstrating your support as we address our industry's most pressing issues.  To become a Co-Host please contact Laura Crisler at lcrisler@nmma.org.