COVID-19 State Impacts: Outdoor Access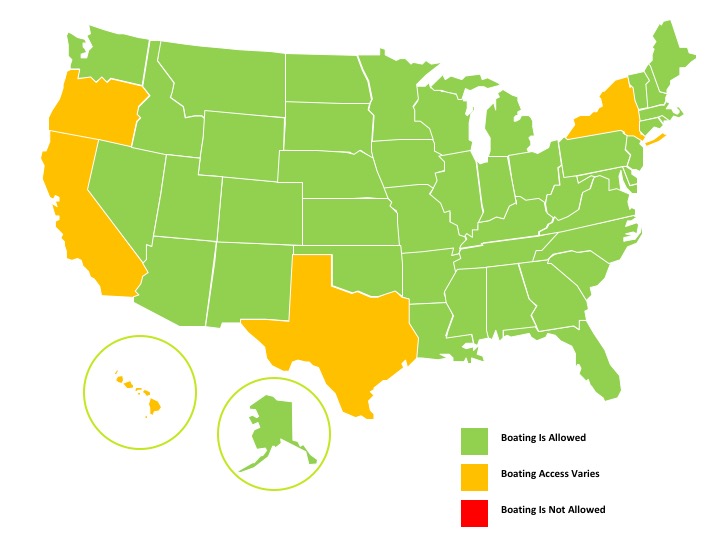 Access Impacts: Starting June 5, out-of-state visitors must have completed a traveler declaration form and tested negative for COVID-19 within 72 hours of arrival or met other criteria. Alaska state parks remain open.
Los Angeles County Beach Access: Due to a spike in COVID-19 cases, Los Angeles county announced that beaches, piers, bike paths and parking lots will be closed from 12:01AM PST Friday July 3 – 5:00AM PST Monday July 5.
The Pacific Fishery Management Council (PFMC) has adopted the following 2020 season dates for the state's four Salmon management areas:
Boating: No more than ten people are allowed on any boat in Hawaii's water for recreational purposes, unless they are part of a single residential or family unit sharing the same address.
Fishing: Shore Fishing Limitations. No group of more than two persons may engage in shore fishing, unless all in the group are part of a single residential or family unit sharing the same address. All persons engaging in shore fishing, who are not part of a single residential or family unit sharing the same address, shall comply with social distancing requirements.
A mandatory 14-day quarantine for visitors from the mainland remains in place and may be extended beyond June 30.
Capacity guidelines for all boats, including nonmotorized boats, kayaks, canoes and sail boats:
Access Impacts: Currently all DNR properties including State Parks, State Forests, Fish and Wildlife areas, Nature Preserves, and state recreation areas are open. Entrance fees have resumed. Marinas are open with limited shuttle service available. State park beaches are open. Lakes, dams and waters managed by the U.S. Army Corps are closed.
Access Impacts: Kentucky State Parks returned to normal hours on June 1. All lodges and cottages are available. Barren River Lake's lodge and restaurant will be closed during renovations but cottages are open and the campground opened June 11. Lodging and camping reservations are open. Restaurants at open resort parks will also be open on a carry out basis only. Cumberland Falls and Natural Bridge state resort parks re-opened June 1. Park museums and historic sites opened June 8. All campgrounds opened June 11. Playgrounds, swimming pools and beaches are currently closed. No picnic shelter rentals until further notice as the State is following the public health recommendation of gatherings of 10 or less.
Some boat ramps operated by the U.S. Corps of Engineers may be closed. Please check by visiting corps websites:
Access Impacts: Boating, boat racing, fishing, state parks, beaches are open and most mandatory restrictions have been replaced with recommendations. Recreational boating activities must meet the following criteria:
Access Impacts: Inland boat ramps and canoe launches within state parks, forests, wildlife management areas, boating access facilities and other state owned properties remain open for use by boats being launched by vehicles registered in the Commonwealth of Massachusetts, except where the access has already been closed due to parking restrictions or other restrictions. Beaches and most outdoor activities, including recreational boating businesses and the charter/for-hire fishing industry, reopened with guidelines on May 25th. Updated guidelines were released on June 8 they can be found below:
Boat Ramp Guidelines:
Recreational boating is permitted under the following guidelines:
Access Impacts: Michigan state parks, recreation areas, trails and other state-managed lands are open, provided all visitors adhere to the requirements for proper social distancing.
Fishing: Charter and fishing guide operations that involve boats, canoes, and other marine vessels may operate provided they:
1) Maintain six feet of distance from one another, to the extent possible
2) Ensure the use of personal protective equipment (PPE) such as gloves, goggles, face shields and face masks appropriate for the activity being performed.
3) Adopt protocols to limit the sharing of tools and equipment to the maximum extent possible to ensure frequent and thorough cleaning of tools, equipment and frequently touched surfaces.
In addition to the DNR Law Enforcement Division, Michigan State Police and local law enforcement agencies have full authority to enforce the provisions of this order.
Access Impacts: Montana state parks are open and most campgrounds have reopened as of May 1. Visitors are reminded to bring their own supplies when recreating on our state lands while practicing social distancing guidelines and adhering to Leave No Trace principals. Supplies should include hand sanitizer as it may not be available in all parks. All park events and programs have been cancelled until further notice.
Fishing: fishing piers are open but social distancing guidelines are to be strictly followed.
On June 24, the governors of the tri-state area jointly announced the travel advisory, which requires a 14-day quarantine for visitors from states whose infection rates meet certain thresholds indicating "significant community spread." Nine states currently meet that threshold, Cuomo said: Alabama, Arkansas, Arizona, Florida, North Carolina, South Carolina, Washington, Utah and Texas.
Access Impacts: Oklahoma state parks are open but visitors are strongly encouraged to practice social distancing.
If going to any location to boat or fish, be sure to check with the managing authority to make sure that place is open for recreation. There are several localities and counties that have closed some parks and boat ramps.
Boating and fishing: