SOBOS App Designed to Collect New Recreational Boating Data, Reduce Accidents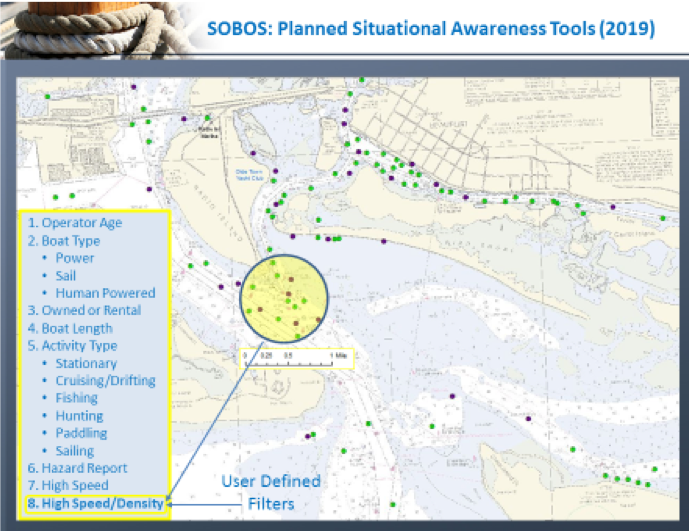 The Center for Recreational Boating Research just released
the new SOBOS app
, available for iOS and Android users, which will collect information about normal, non-accident based recreational boaters. The goal of SOBOS is to test the effectiveness of crowdsourcing recreational boating data as an evidence-based public health approach to reducing boating accidents.
The SOBOS mobile app asks boaters to fill out a short survey that permits the app to track a span of their next on-water excursion. Both the anonymous survey and anonymous on-water data points are then linked to each on-water waypoint.
Participant support will help to:
Support a public health and service project designed to reduce recreational boating accidents and fatalities by examining non-accident based boater characteristics.
Locate anonymous SOBOS survey data at "real" on-water boating locations so that non-accident data can be compared to and analyzed with accident data.
Build a "situational awareness" boater network that enables reports such as floating debris, harbor congestion, broken down boat, and more (similar to the Waze app).
The SOBOS app includes more data than waypoints tracked by traditional chart plotters. It is stacked with the day, time, latitude/longitude, and speed of the boat coupled with the anonymous on-water survey. Future SOBOS updates will share this anonymous information with other SOBOS participants to alert of activity or hazards along the boat route.
The SOBOS app provides commercial, governmental, and university partners access to anonymous, non-accident-based on-water recreational boater data to study normal geospatial-temporal boating patterns, actuarial research, or boating accident research when compared to local recreational boating accidents.
Current recreational boating network members included the National Safe Boating Council, American Canoe Association, U.S. Army Corps of Engineers, National Marine Manufacturers Association, US Sailing, National Association of State Boating Law Administrators, U.S. Power Squadrons, Boy Scouts of America, BoatUS, Geico, Brunswick Corporation, Grady White Boats, SeaTow Foundation, National Boating Federation, and others.
SOBOS launched in the iOS App and Google Play stores May 2018. Situational awareness tool additions are planned for 2019.
SOBOS was produced under a grant from the Sport Fish Restoration and Boating Trust Fund, administered by the United States Coast Guard. For more information, visit https://sobos.org/.