Three Women in Marine Manufacturing Honored with STEP Ahead Award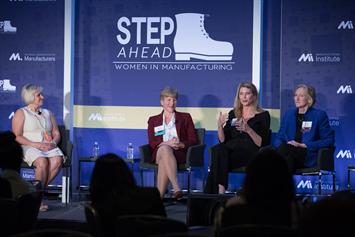 NMMA congratulates Valerie Harriell, Vice President of Human Resources, Volvo Penta of the Americas, Alicia Harris, Manager, Quality and Planning, Brunswick Corporation - Brunswick Boat Group, and Shelley Tubaugh, Vice President of Marketing, Grady-White Boats, Inc., on receiving the 2018 STEP Ahead Award. The STEP (Science, Technology, Engineering and Production) Ahead initiative began in 2012 to celebrate women in the manufacturing industry who are making a difference through advocacy, mentorship, engagement, promotion, and leadership.
The STEP Ahead Awards highlight the achievements of real women in manufacturing on a national stage. STEP Ahead aims to "close the skills and gender gap" and inspire future generations of women to consider careers in manufacturing. Harriell, Harris and Tubaugh will be honored at the 2018 STEP Ahead Awards on April 10 at the National Building Museum.