New Issue Workshops at American Boating Congress, 2017 Policy Agenda Available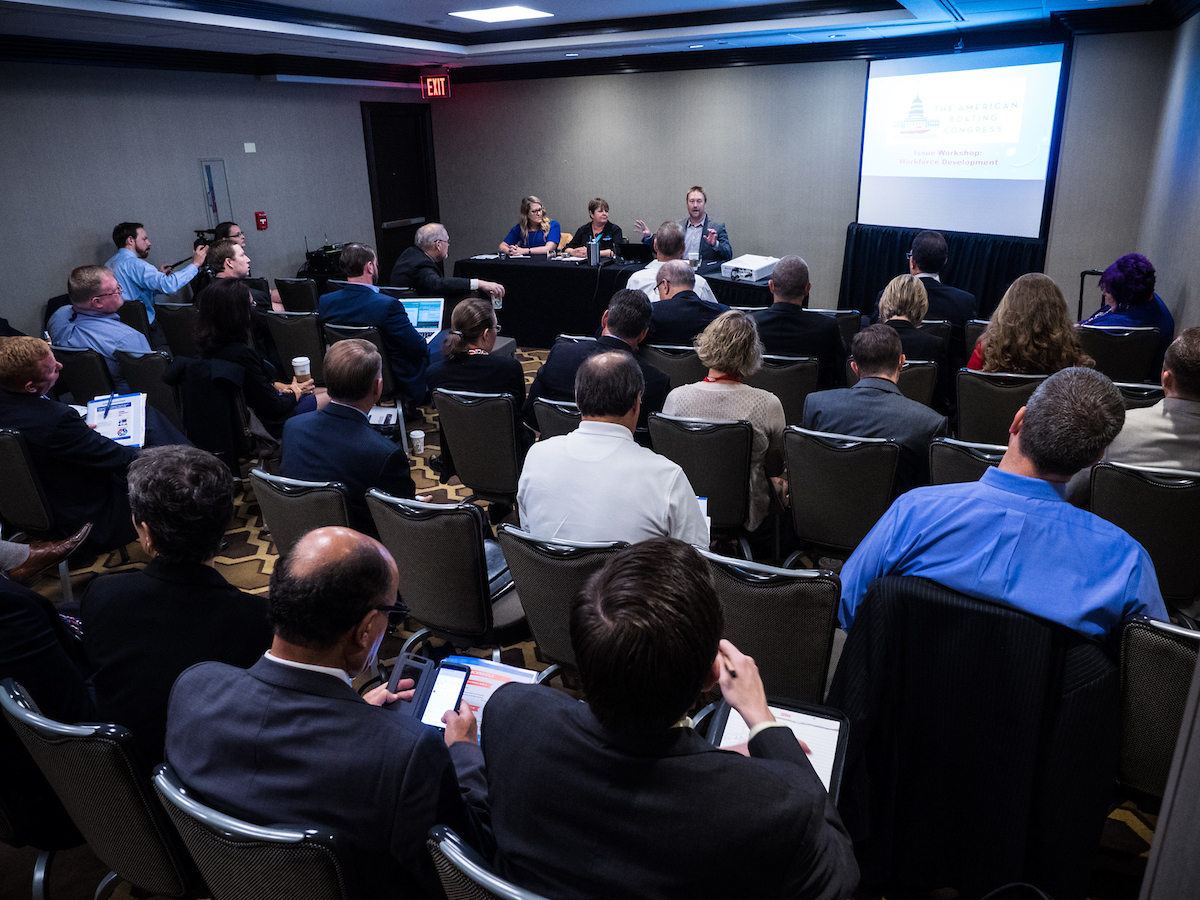 With a new Administration and Congress, major policy decisions are on the horizon, and we need the collective industry's voice more than ever! This is why the 2017 American Boating Congress (ABC) is introducing a new series of Issue Workshops to educate you on the big issues impacting marine businesses and help guide you in representing the industry on Capitol Hill.
To compliment the Issue Workshops, the National Marine Manufacturers Association has published the 2017 Policy Agenda—Marine Manufacturing: Powering the Nation's Economy– a new, quick reference guide outlining top legislative priorities for recreational boating. We encourage you to download and begin using the Policy Agenda now and year-round to help prepare for any meetings, events or communication being done to educate lawmakers. The entire brochure can be downloaded here.
Still questioning your participation at ABC? If ANY of these issues impact your business, it's time to attend! There are nine new Issue Workshops on the agenda for ABC 2017, divided into three subject tracks:
Business Track
9:30 am – Tax Policy: the impact of tax reform on your business and customers
10:10 am – Infrastructure: improving access across the nation's lands and waterways with a 21st century infrastructure system
10:50 am – Trade: the future of U.S. trade agreements, the EU and North American Free Trade Agreement
Environment and Access Track
9:30 am – Access and Conservation: a case study for Everglades' restoration
10:10 am – Boating Safety: keeping our boaters and waterways safe – 2017 boating safety priorities
10:50 am – Recreational Fishing: modernizing recreational fishing saltwater policy and recruiting the next generation of anglers
Workforce and Compliance Track
9:30 am – Workforce Development: attracting and retaining talent and the role of government in supporting company growth
10:10 am – Fuel Policy: the future of ethanol and reforming the Renewable Fuel Standard
10:50 am – Environment, Health and Safety Compliance: navigating the latest national and international marine manufacturing regulations
Register for ABC by May 1 to receive a discount. Contact Courtney Erhardt, cerhardt@nmma.org with questions on how to register. For more information and to make your plans, visit http://www.nmma.org/government/abc.
Download the American Boating Congress free app (ABC Lobby), and take advantage of its resources and tools that will make ABC 2017 the best conference yet! Sponsored by Brunswick and Mercury. Available on Apple, Android and Samsung phones.
Co-hosts for ABC 2017 include: American Sportfishing Association, Association of Marina Industries, Boating Industry Magazine, BoatU.S., Center for Sportfishing Policy, Connecticut Marine Trades Association, Dominion Marine Media, International Yacht Brokers Association, Lake Erie Marine Trades Association, Marine Industries Association of South Florida, Marine Retailers Association of the Americas, Marine Trades Association of New Jersey, Michigan Boating Industries Association, National Marine Distributors Association, National Marine Lenders Association, National Safe Boating Council, National Yacht Broker Certification Program, Norman-Spencer Marine Insurance, Soundings Trade Only, States Organization for Boating Access, The American Boat Builders and Repairers Association, The Boating Trade Association of Metropolitan Houston, U.S. Superyacht Association, and Yacht Brokers Association of America.
Sponsors for ABC 2017 include: Brunswick and Mercury, Yamaha and Yamaha Watercraft, Correct Craft, White River Marine Group, Seastar Solutions, ILMOR, Freedom Boat Club, Suzuki Marine, Sea Tow, Marine Retailers Association of the Americas, International Yacht Brokers Association, Chaparral, Volvo Penta Americas, Marine Concepts, and SureShade. Contact John Marcinek, jmarcinek@nmma.org, to come on board as a 2017 ABC sponsor.