This is the highlighted section.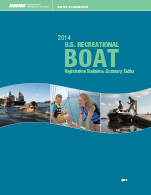 The 2014 U.S. Recreational Boat Registrations Summary Report provides data on boat registrations by state, size, propulsion and hull material. Regional summaries include population, income, shoreline and inland water data. Detail by state is provided in a separate data file.
NMMA members: Please contact Bryan Welsh, Director, Membership Services at 312.946.6276, for access information.