NMMA Applauds Full MACD Board Participation in BoatPAC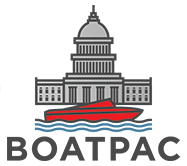 As of last month, all 21 board members of NMMA's Marine Accessory and Component Division (MACD) have supported BoatPAC in Fiscal Year 2019, moving the recreational boating industry's political action committee (PAC) closer to achieving its annual fundraising goal of $250,000. BoatPAC is an essential element of the industry's advocacy arsenal and NMMA thanks all MACD board members for their support.
A strong and robust PAC helps ensure the industry's priorities remain at the forefront of the conversation in Washington, D.C. and full participation from the MACD board signals an unwavering commitment to the program moving forward.
In addition to the MACD board, NMMA thanks all 2019 BoatPAC contributors – click here for a complete list of supporters.
To learn more about BoatPAC and how to get involved, contact NMMA director of political advocacy and engagement, Erica Crocker at ecrocker@nmma.org or 202-737-9776.
Members of NMMA's Marine Accessory and Component Division Board
Steve Tilders, Chair MACD Board, Director of Sales, Marine, Xylem, Inc.
Ned Trigg, Vice Chair MACD Board, Senior Vice President of Global Systems Sales, Dometic Corporation Marine Division
Craig Clawson, 2nd Vice Chair MACD Board, President, Magic Tilt Trailers
Larry Akins, Chairman, Fireboy-Xintex, Inc
Ron Bailey, Global Vice President Sales and Marketing, Sea Star Solutions
Jason Blackburn, Vice President of Sales and Marketing, Faria Beede Instruments
Bill Boehman, Chief Marine Operations Manufacturing Officer/Vice President, Yamaha Motor Corporation
Eric Braitmayer, CEO, IMTRA Corporation
John Clarke, President, MAC Direct
John Devitt, Vice President of Engineering, Midwest Industries, Inc.
John Kujawa, President, Lumitec
John Kushner, President, Taco Metals,
Greg Lentine, President, Norcorss Marine Products
Bill McDaniel, Marine Marketing Manager, Glen Raven Custom Fabrics, LLC
Matt Peat, Vice President of Sales and Marketing, Transhield
Jason Pajonk-Taylor, President, Taylor Made Group
Dana Russikoff, Business Leader & Co Founder, SureShade
Ken Smaga, NMRA Representative
Matthew Vranich, Executive Vice President & General Manager, Navico
Bill Watters, President, Syntec Industries
Matt Wood, Marine Industry Manager, ASA Electronics