Recreation Leaders Meet with Agriculture Secretary Sonny Perdue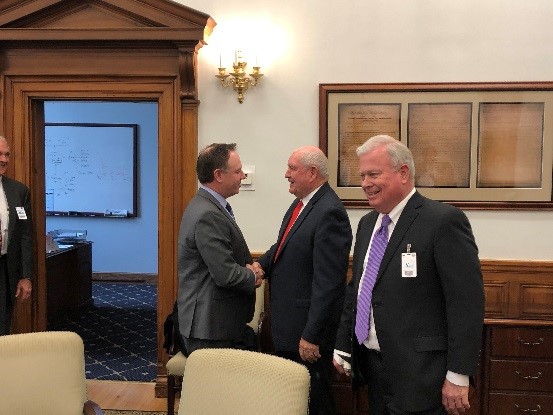 Earlier this week, Outdoor Recreation Roundtable (ORR) leaders – including NMMA president and ORR chairman, Thom Dammrich – met with U.S. Secretary of Agriculture Sonny Perdue, Under Secretary for Natural Resources and the Environment, Jim Hubbard, and other key officials to discuss the industry's importance to the U.S economy. NMMA is an active member of ORR, with several of its staff serving in a leadership capacity.
During the meeting, ORR representatives noted the importance of national forests to many recreational activities, and highlighted the world-class experiences provided to anglers and skiers, hikers, climbers, campers, paddlers, boaters and motorized trail enthusiasts. The group also underscored the key role national forests play in rural economies across the country and the importance of key provisions in the 2018 Farm Bill that will allow rural economic development grants for recreation infrastructure in rural America.
"We had an excellent conversation with Secretary Perdue," said Dammrich. "He made clear that he supports the recreation industry and invites us to grow partnerships on the public lands and waters in the national forest system – 193 million acres, more than 400,000 acres of lakes, 4300 campgrounds and 160,000 miles of trails. He invited our help in identifying specific steps forward and ORR will provide those."
Secretary Perdue said the meeting was "very helpful," and that the department is, "committed to helping Americans enjoy recreational opportunities in our national forests."
In addition to Dammrich, the recreational boating industry was represented in the meeting by Joe Hoffmaster, President of Hoffmaster's Marina and Chairman of Marine Retailers Association of the Americas, Mike Happe, president and CEO of Winnebago, and Paul Vitrano, senior assistant general counsel of Polaris. Additional information on topics discussed and participants can be found here.
For more information, please contact NMMA senior vice president of government relations and legal affairs, Nicole Vasilaros at nvasilaros@nmma.org.
Photo caption: Winnebago president and CEO Mike Happe shaking hands with U.S. Secretary of Agriculture Sonny Perdue – ORR Chairman and NMMA President Thom Dammrich in the foreground.