Join NMMA's Advocacy Team for Briefing Events at 2019 Boat Shows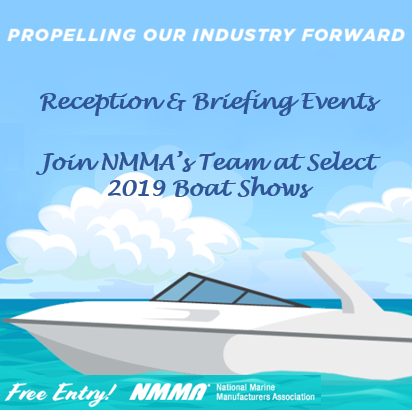 With the 2019 boat show season just around the corner, NMMA is inviting all stakeholders and exhibitors to join the advocacy team at select shows for a discussion on important issues impacting the recreational boating industry. The events – titled "Propelling Our Industry Forward" – will be held at the Atlanta, Chicago, Minneapolis, New York, New England, and Atlantic City shows and provide a great opportunity to learn about top industry priorities at every level of government and how to engage in advocacy efforts. Click here to register today.
All events are free to attend, and refreshments will be provided. Individual registration pages with additional details for each event are available at the following links:
Regardless of whether someone has been involved with NMMA for years or is new to the industry, NMMA encourages everyone to attend the events and bring their colleagues and friends.
If you have questions or would like more information, please contact NMMA senior vice president of government relations and legal affairs, Nicole Vasilaros at nvasilaros@nmma.org.