IBEX Expands Education with More Seminars, Super Sessions, Workshops, Plus New Marina & Yard Pavilion Theater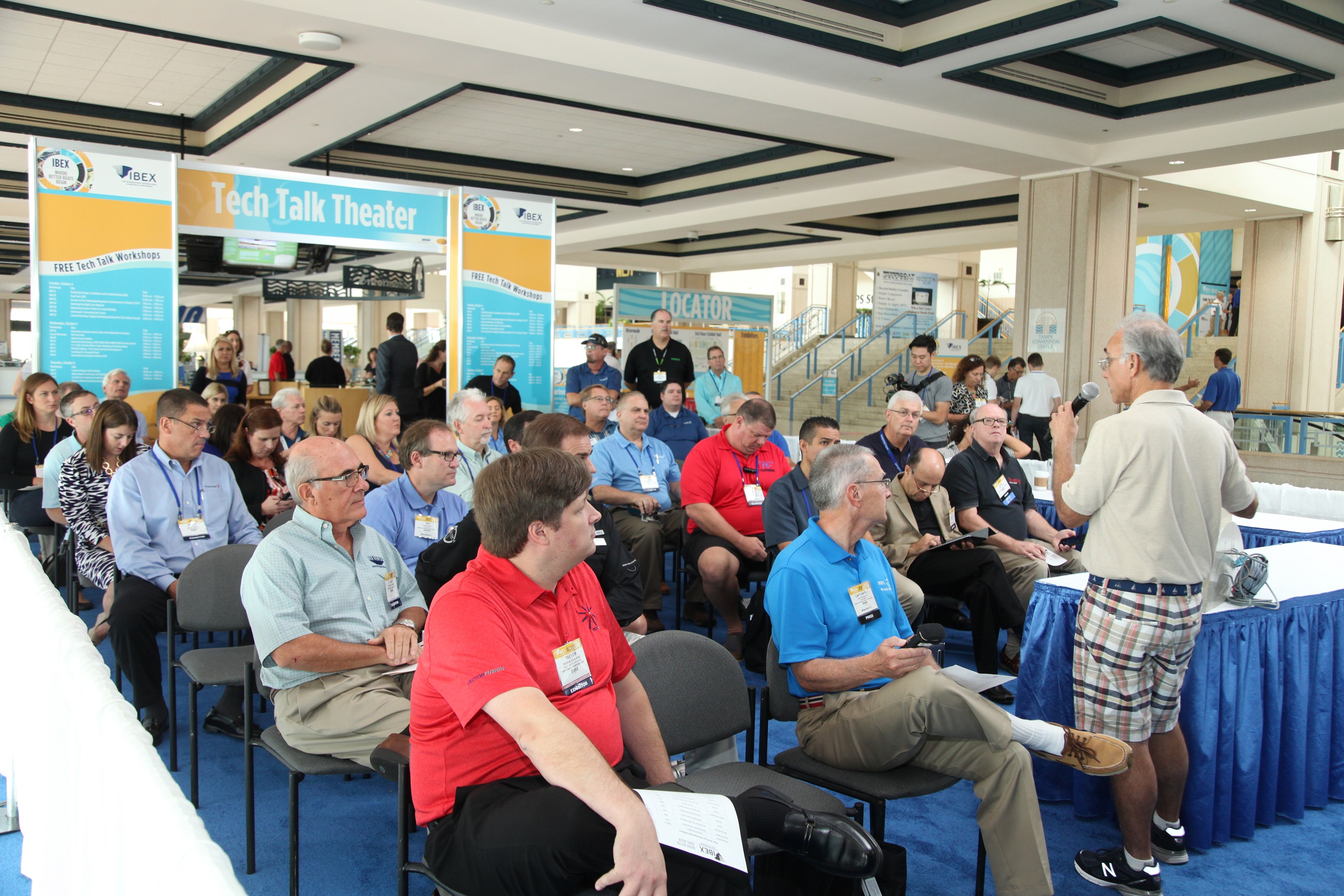 Attendees of the 28th
International BoatBuilders' Exhibition and Conference (IBEX)
, held October 2-4 at the Tampa Convention Center, can expect even more from the conference's renowned educational component. Offering participants up to 100 unique opportunities to learn about new processes, access technical information, demo products, and more, the elevated educational offerings include the technical IBEX Seminar Series, pre-conference Super Sessions, and free Tech Talk Workshops, plus a new Marine & Yard Pavilion Theater.
"We are offering more educational opportunities than in years past," said Sarah Devlin, IBEX Education Director. "With world-class presenters, industry partners, and an exceptional mix of timely topical programs to choose from, IBEX offers a tremendous opportunity to take advantage of decades of specialized, hands-on expertise."
The IBEX Seminar Series offers 58 seminars in eight tracks dedicated to specific areas of interest in the boat manufacturing industry, such as Design & Engineering; Composite Methods & Materials; Onboard Systems; Marine Electrical Systems; Manufacturing Management Policy; Survey & Repair; Boatyard & Marina Operations; and finally, IBEX Extras, a track of special educational topics. The IBEX Seminar Series is organized by the IBEX team and its education partners: Professional BoatBuilder magazine, the American Boat & Yacht Council (ABYC), the American Boat Builders & Repairers Association (ABBRA), the National Marine Electronics Association (NMEA), and IBEX co-owner the National Marine Manufacturers Association (NMMA).
To attend the IBEX Seminars, visitors can register for an Individual, Three-Pack, or Full Conference seminar pass. The Full Conference pass includes seven seminars plus a special panel with some of the world's top designers, entitled "Designing for Speed." New this year, attendees select onsite which of the 58 seminars they would like to attend. Also new, seminars this year are 45, 60, 90, or 120 minutes long. Continuing Education Units (CEUs) are available for paid and verified participation at IBEX seminars at one CEU per one hour.
"The entire education conference has grown," said Anne Dunbar, IBEX Show Director. "We will be offering two days of Super Sessions and we are thrilled to launch a new Marina & Yard Pavilion Theater with workshops dedicated to that growing segment of the IBEX audience."
IBEX Super Sessions take place on Sunday, September 30 and Monday, October 1, 2018. Advanced registration is required. The nine Super Sessions include: Marina 101: Walk the Docks – First Impressions; Modern Scantlings (Structure): Calculations, Standards, Details, Materials; Marina & Boatyard Study Tour; CZONE Level 1 Technical Training; Airmar Certified Installer Training; NMEA Basic Marine Electronics Installer (MEI) course; Fiberglass Boat Repair; Core College; and Digital Marketing: Join the Evolution. Super Sessions vary in price from $55 to $699.
Tech Talk Workshops are exhibitor-run training sessions that begin every hour during show hours. This year there will be two workshop theaters: the Marina and Yard Pavilion Theater on the first floor exhibit hall sponsored by Tides Marine, and the Tech Talk Theater on the third floor sponsored by West System and Pro-Set Epoxy. Tech Talk Workshops include topics like New Sunshade Product Advancements, Replacing Your Generator with Li-Ion Batteries, and How to Finish West System Epoxy Repair with Gelcoat.
On Wednesday, October 3 at 11 a.m. in the Tech Talk Theater, IBEX will hold the Product Pitch – a live presentation by exhibitors of some of the most innovative new products on display as selected by industry journalists.
As an industry trade event for over 7,500 professionals working in the recreational marine industry, IBEX offers its visitors 675 exhibits in a space that spans more than 127,500 square feet though exhibit halls, outdoor display spaces, and on the IBEX docks. It also offers unparalleled training and education from industry experts and associations, and provides a targeted audience for marine industry OEMs and suppliers, aftermarket manufacturers, and service providers.
For information about the IBEX Education Conference, please visit www.ibexshow.com/education. For more information on IBEX 2018, exhibiting companies, interactive exhibit hall floor plans, and more, please visit www.ibexshow.com. To register, click here.