The National Marine Manufacturers Association Hall of Fame was established in 1988 to recognize and honor individuals who have made or continue to make substantial contributions toward the advancement of the marine industry. It is NMMA's most prestigious recognition.
HALL OF FAME NOMINATION CRITERIA
To be eligible for the NMMA Hall of Fame Award one must:
Made a substantial and lasting impact on the industry or their particular segment
Known in the industry and is beyond personal or professional reproach
Was or continues to be a member or supporter of NMMA
Actively involved in the marine industry for a minimum of ten years
NOMINATION PROCESS
Nominations are currently closed and will open during Summer 2019.
For questions on the Hall of Fame Award process, please contact:
Rachel Harmon
National Marine Manufacturers Association
Hall of Fame Award Nomination
231 South LaSalle Street, Suite 2050
Chicago, IL 60604
Phone: 312.946.6247
Email: rharmon@nmma.org
Below you can learn about all Hall of Fame Award recipients:
1988: Elmer Carl Kiekhaefer, Charles Frederic Chapman, Garfield Arthur Wood, Ole Evinrude and Christopher Columbus Smith
Elmer Carl Kiekhaefer, 1906–1983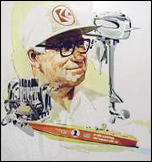 It could be said one of the most fitting tributes Carl Kiekhaefer ever received was not from the people in the company he founded, but rather from the individuals who represented his most formidable competition—the Outboard Marine Corporation. For in 1976, Carl received the 20th Annual Ole Evinrude Award for an "…immeasurable contribution to boating."
At the age of 19, Carl left his family's Wisconsin farm to embark on a career as inventor, engineer and industrialist. Success came early. While still in his early twenties, he was a chief engineer and had already obtained the first of the 200-plus patents and 100 industry "firsts" he would generate in his long career.
In 1939, with the "itch" to move on, Carl raised $25,000 to purchase a defunct outboard motor plant. By 1940, "E.C", then an unknown, introduced the outboard motors he designed and built, they were called "Mercury". And because of their superior design, by 1941, dealers placed orders for over 45,000 Mercury outboards.
The outbreak of WWII put a hold on the success of the young company, however by making substantial engineering and product contributions to the war effort, the Kiekhaefer Corporation earned the Army-Navy "E" Award with four stars.
Engines and the spirit of competition were the very core of Carl's life. That's why, sooner or later, a Kiekhaefer engine was used in anything that moved on land, water or in the air. And if it raced, it usually won. In the 1950's, Kiekhaefer's Chrysler stock cars dominated NASCAR events. (Which is why he was inducted into the NASCAR Hall of Fame.) From the stock car engineering experience, Carl would later develop the stern drive engine now known as MerCruiser. And as any offshore racing fan knows, the KAM/MerCruiser engine is the most successful stern drive ever developed.
Because of Carl's many engineering and competitive successes, many of his personal and philanthropic contributions for society were conducted with little fanfare. However, those who knew him well believed Carl was just as successful in "life" as he was in competition!